Parents of children at Finn Valley College are to make a silent protest today outside the school when VEC chief Mary O'Kane attends a meeting of management.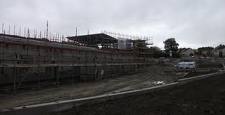 The meeting is to discuss a number of issues but most specifically the delay in opening the school.
A one-way system with Traffic Lights and safety barrier for pedestrians to walk behind to be operation by close of day on Monday
Parents are also seeking assurances on a number of other areas.
They want all school buses to be allowed and re-contracted to drop these children to and lift them from the New School Building
There is also a call for shuttle buses to operate whilst the footpath is under construction, from the Main Road to/from the new school for the children of the Ballybofey/Stranorlar area who will be arriving to school on foot.
They also want clarification if or when the in-school canteen will be operational as without this there will be the added issue of school children needing to go out at lunch time to obtain meals.
Also the keys for the new building are due to be handed over at this meeting..
The parents stated they will be making a peaceful protest outside the FVC prior to the commencement of the Board Meeting at 10am.
A further open meeting will be held this evening Monday at 7.30pm in St Marys Parish Centre when the outcome of the board meeting will be relayed and a decision on any further action if necessary will ne discussed amongst all those who attend.
Ends
Tags: