Football, Launches & More Exciting Events!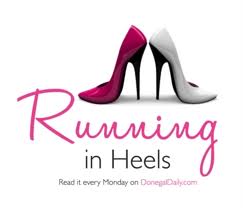 So the entire county is completely exhausted but exhilarated following yesterday's All-Ireland Semi-Final in Croke Park. Our Media Box reporters Erin Coyle and Michael Brennan, donned, in green and gold, were there for us so check out www.facebook.com/mediabox for updates – did they find you at the big match?
Despite being pipped at the post by Dublin we are proud of the entire team – from Management to players, back-room staff and of course the tens of thousands of supporters who traveled from Donegal to Croke Park yesterday! Well done everyone. We have achieved greatness in just one short year of Jim McGuiness at the helm and it will stand us in good stead for next season.
We have a busy week ahead at Media Box and might I add a busy week of celebrations! Kirchhoff Ireland is celebrating 30 years in Letterkenny and you may not know but this company manufactures parts for the world's biggest car brands including BMW Mini, Volkswagen, General Motors and Ford. On Tuesday we will coordinate their 30th celebrations in the company of Minister Brian Hayes, the German Ambassador and members of the Kirchhoff family who have traveled from Germany along with other stakeholders and staff. See www.kirchhoff.ie
Wednesday we start plans for the Donegal Local Development Company "Making the Future Happen" event which takes place in Jackson's Hotel Ballybofey on Tuesday 22nd September. If you are unemployed but dream of being the master of your own destiny then this is an event for you. And we will have inspiring stories of people who have turned their own lives around and started their own business in a recession.
Thursday marks the official launch of the 2012 Pramerica Spirit of Community Awards and we will have an exclusive interview with Pramerica MD, Henry McGarvey and also interviews with last years winners Megan Fahy from Sligo and Seoighe Kearney from Cork who met Hollywood actress Susan Sarandon at the American Spirit Awards in May. So we are inviting all second-level students from across Ireland to get involved so check out www.pramerica.ie/spirit
And if that's not enough we are busy working a range of new client projects from dating to waste and volunteering to media training.
Joanne will also attend the AGM of the Donegal Youth Council at the end of the month chairing a session about the recession. And she is back in the hot seat presenting the Red Room on Highland Radio on Monday 12th September from 3pm-4pm – so make sure you tune in!
So on that note, we will run off to manage some more creative couture campaigns. But keep up to date on our facebook page www.facebook.com/mediabox or our website www.mediabox.ie
Until next week….keep running in heels!
The Media Box Team. X
Tags: