Asking a bride to do anything on her wedding day is a risky business.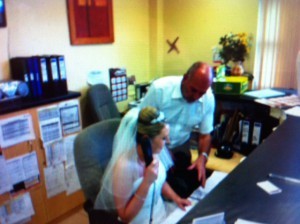 But asking the lady to work in her wedding dress is risking life and limb – even if you are the boss.
However that's exactly what happened to Noreen Toye when she called in to see her colleagues at Swilly Drive in Letterkenny.
As the wedding party made their way from the idyllic church in Creeslough, to the reception in Ballybofey, they were diverted to Swilly Group headquarters where staff had organised a champagne reception.
But little did Administration Officer Noreen think she would be called on to work on her big day!
Being one of the largest providers of Driver CPC training for professional truck & bus drivers and with the annual deadline of 10th September fast approaching, the guys at Swilly Group are busier than ever accommodating drivers & operators nationwide.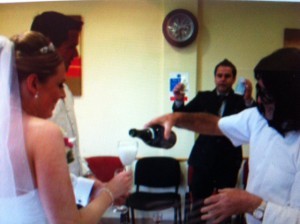 While enjoying the unplanned diversion, telephones were ringing as normal and a client, unaware of Noreen's wedding, asked for Noreen.
And without hesitation the blushing bride slipped into her chair and dealt with the client as if it was a normal day – even in her wedding dress!
"Perhaps I'll get an extra day's holiday for working on my wedding day," laughed Noreen.
Swilly Group founder, Noel Sweeney, greeted Noreen as her very own personal waiter dressed in full uniform, black wig and in a thick French accent while orange juice a plenty was laid on for all the designated driver.
The management and staff of The Swilly Group wish Noreen and new husband Denis Sheridan well in their married life and look forward to Noreen coming back from honeymoon.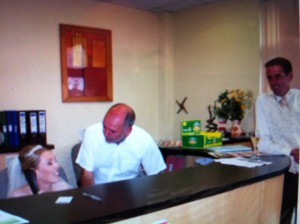 In future all staff have agreed the only way to avoid Noel in drag is not to book weddings during the Driver CPC rush!
As Noel always says "Don't say you weren't tould!"
For more information on The Swilly Group or the services it provides check out our website www.swillygroup.com or follow us on Facebook or Twitter.
ENDS
Tags: