The Arena7 Entertainment Complex Letterkenny will be celebrating their 7th birthday this week!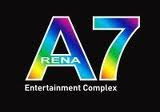 The company has gone from strength to strength to become one of the top entertainment complexes in the Northwest of Ireland and there ain't no stopping them now.
Opened in 2005 by Enda Nicholls with his wife Claire the complex is now one of the most popular spots in Letterkenny and also built up a fine reputation with customers from beyond.
What makes the venue the success story it is, is the fact that it can cater for people of all ages, so no matter if granny and granddad are entertaining their grand kids or a group girls and guys are on the town for a night, Arena7 will ensure that everyone will have a good time.
The name Arena7 comes from the seven different great choices that can be had at the complex including Bowling World, Strikes Bar & Restaurant, Arcade & Go Karts, Function Rooms with Private Bar, Waynes World Adventure Centre, Bite & Bowl Fast Food Diner and its Championship Style Pool Tables.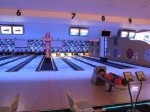 What makes Arena7 in a league of its own is fact the entertainment venue can host a kids party in Waynes World Adventure Centre, entertain a work night out in Bowling World and also allow a couple to enjoy a delicious meal in the relaxing Strikes Bar & Restaurant all under the one roof.
Mr Nicholls went on to say "It's hard to believe we have gone 7 years since we opened the doors first. It's been great and although the environment in which we operate today is a lot different from we first opened up, we've adapted and we continue to work hard. I want to thank my staff and all our customers for their continued support and we look forward to the next 7".
To celebrate another great year in business Arena7 are inviting everyone to join them on Friday, September 2nd for a glass of champagne, finger food and birthday cake followed by party time music. If you haven't yet made a trip to Arena7 then get there today and you'll be glad you did.
Ends
Tags: