The future of one of Donegal's best known businesses hangs in the balance after a decision by the National Roads Authority to erect a barrier outside the premises.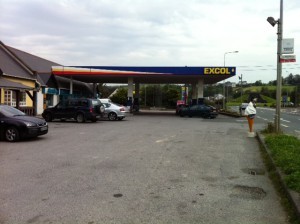 The Mace convenience store and restaurant at Dry Arch Roundabout in Letterkenny, which employs 22 people on a full and part-time basis, is a hugely-popular stopping point for shoppers.
But now the NRA told its owners that they are cutting off a filter lane on the main N14 road into the store.
The NRA claims the filter lane is a safety hazard and plan to erect barriers to prevent motorists from turn right when coming into Letterkenny from the Derry Road.
Management at the store say the move will cut its business by 50% and they will be left with no option but to close its doors.
The workforce has already dwindled from 33 down to 22 because of the recession and management say they simply cannot afford any more cuts.
A spokesman for the store told Donegaldaily.com that staff have been informed of the situation that they could close.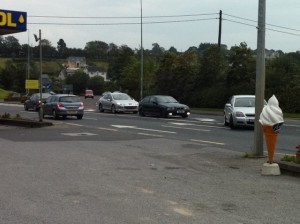 "If this decision goes ahead then we will have no choice but to close the premises.
"People will not go all the way into the Pole Star roundabout and then turn back – it doesn't make sense.
"We are talking about losing 50% of our business and I cannot afford to do that in the current climate.
"We are barely making ends meet because of the rising cost of electricity and other things.
"The staff know about the situation and they know our hands are tied. We are in the hands of the NRA at the moment but it seems the decision has already been made," he said.
The NRA claims the filter lane into the shop is a safety hazard.
However the spokesman for Mace at the Dry Arch said safety has never been an issue.
"I cannot ever remember a crash from a car crossing from the filter lane into our premises.
"There is adequate space and plenty of long breaks in the traffic flow for people to cross.
"I just do not accept that as a reason," he said.
Management at the store, who have had two meetings already with the NRA, say work on the barriers could begin later this month or in October.
End
Tags: