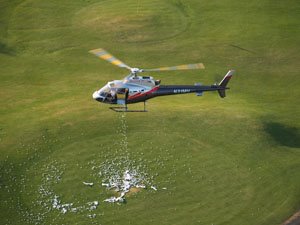 Golf Balls From Heaven By Hazel Russell
Is there really anything to compare to watching thousands of golf balls cascading from a helicopter that's hovering over a Town Park?   Well, Sunday next, 11th September will certainly be the test of that when the Rotary and Lions Clubs' unique Fundraiser come to a conclusion, when thousands of golf balls will be dropped right into the Centre of the Letterkenny Town Park around 4.30 pm.
Contestants in this unique event have been buying tickets over the past few weeks and these will be renumbered to coincide with a pre numbered golf ball and then those closest to the Target when all of the balls have come to rest will be declared the winners of the various cash and other valuable prizes.   Local Peace Commissioner, Victor Fisher will be on hand to ensure that all is completed above board.    There are still some tickets available locally at Magees Chemist, Clarkes Newsagents, The Vestry or even prior to the Drop at the Shopping Centres on Friday and Saturday or at the Family Fun Day which commences at 2 pm.
The Letterkenny & District Pipe Band will congregate at the Courthouse and march to the Park for the Official opening of the Family Fun Day by Mayor of Donegal County Council, Mr. Noel McBride.   Thereafter, there will be entertainment galore on the Gig Rig courtesy of the Colmcille Gospel Choir; local lad Oisin Devine; Static Movement who were All Ireland Finalists in the Stars in our Bars competition; and some wonderful Irish Dancers.  Music will be provided by local DJ's Keith Fletcher, Tommy Rosney, Sean Purser, Lee Gooch and perhaps other celebrities dropping by throughout the afternoon.   We have a wealth of local talent in our midst and we are most grateful for them for giving of their time freely to help in this Fundraising afternoon. Unfortunately, Daniel O'Donnell is unable to attend, but he sends his best wishes.
However, there will also be a Childrens Fancy Dress competition at 2.30pm, as well as a Best Dressed Lady Competition at 3.00pm, so everybody get dressed up for the afternoon, come along and see if you can win a prize!   Also there will be games and fun galore for all of the family including Face Painting, Penalty Shoot Outs, Bouncy Castles, Horse Shoe Throwing, Wheel Barrow Races, Egg & Spoon Races, and putting competitions and a Book Stall to name but a few. The Dubai Rose, Grainne Boyle will in attendance as well as many other local celebrities including Ollie Boyle from the Special Olympics, so this is not an afternoon to sit at home but to be seen out and about enjoying the fun at the Letterkenny Town Park.
In support of this Family Fun Day and the charities, Carol Ann Scott and Letterkenny Pets have organised a Dog Show to commence at 1pm outside the Vestry, on the St. Conal's side.   There will be Category and Overall Prizes, so please contact 086 0876814 to obtain full details in relation to registration, categories etc.
The purpose of this unique Golf Ball Drop and Fun Day is to raise money for both the Rotary & Lions Club Charities, but principally to raise much needed funds for a Lift to be installed in The Vestry beside the Park, which is the home of Cairde Le Cheile as well as also raising funds for the Down Syndrome Society and the Letterkenny Youth Club, so therefore your support would be much appreciated for all of these very worthwhile local charities.   There will be Free Car parking at the St. Conal's side of the road for the afternoon to facilitate the event.
So ensure that you have a ticked for this unusual lottery and bring the whole family along to enjoy an afternoon of fun and frolics in the Town Park while supporting many worthwhile charities at the same time.