Mountcharles men Joe Coyle and John McGrory wanted to do something unique to raise funds for their village. So they hatched a plan to walk across ten islands off the coast of Donegal. This is their diary.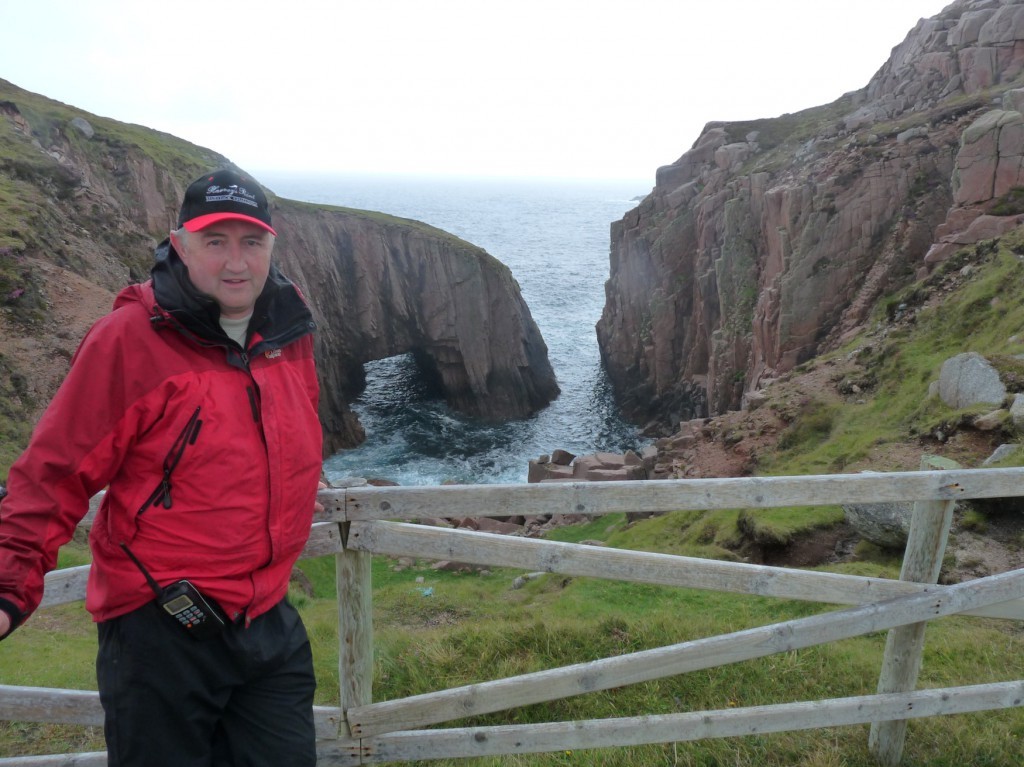 Alarm goes off. Strange room.I remember, I slept last night in a house on Inishbofin Island off the north coast of Donegal.It's pitch dark."We'll eat first" says my walking buddy John Mc Groary. We do. Microwaved porridge. Beautiful.
We suit up ( boots, gaters and wet gear…its raining) and hit the street. Semi dark now. The view is spectacular. Floodlit pier, two small boats, reflections on the water, Magheraroarty in the background.
#0612# we set off, the first steps on an epic journey…the Ten islands Challenge…we have undertaken to walk across Ten Islands off the coast of Donegal in aid of the Mountcharles Community Development Fund…and here we are.
#0615# We meet our very generous host from the previous evening, a summertime resident of Inishbofin, Dan Coll who wishes us well on our journey. We head north along a narrow street of houses in various stages of repair and over the hill, past the goal posts in an open field, weary of the rabbit holes ( walkereese for broken ankle). We arrive at a beautiful white sandy beach, between a shoreline of large pebbles and a beautifully clear sea. Beyond the beach we climb to 25 meters and get a fantastic view of Tory Island in the far distance, floodlit and not unlike the Manhatten skyline, as well as the next two islands on our journey Inishdooey and Inishbeg (small Island) with Horn Head prominent east of us.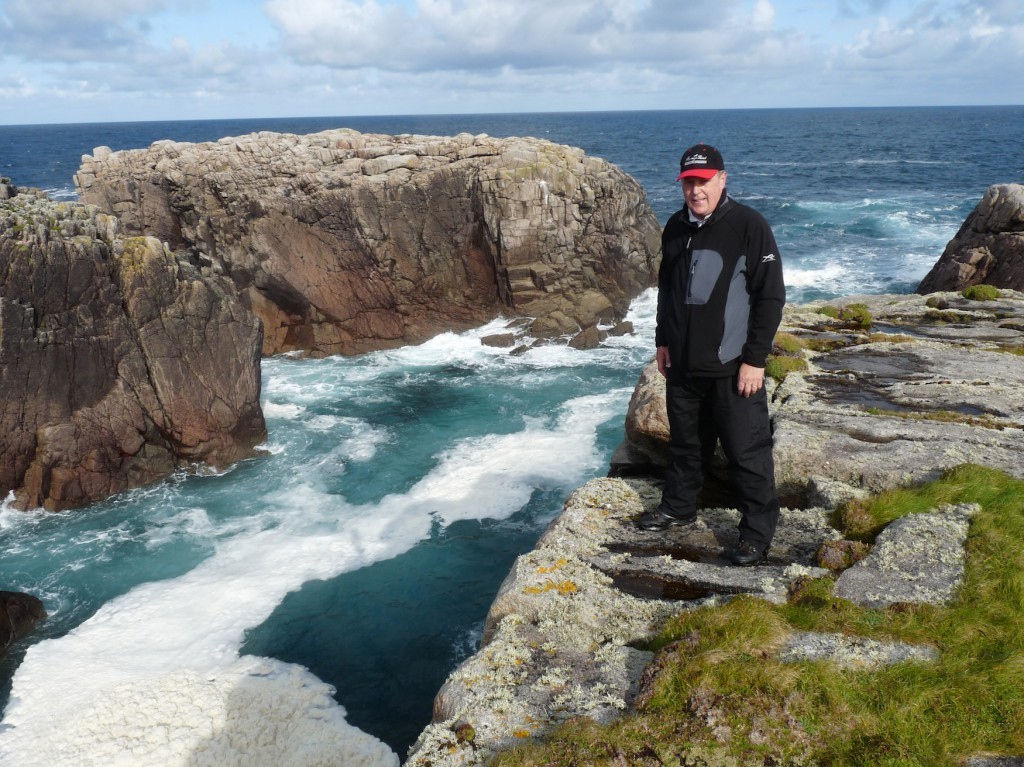 Clockwatching we head back, we have an appointment at 0700.
#0645# to the west we see a movement at sea, something yellow, fast, heading our way, our transport.
#0700# we rendezvous with the RIB Discovery, its owner Mountcharles man, Eamonn O'Donnell, who had very generously made himself and his magnificent yellow craft available for the day and was joined by Burtonport man, experienced seaman, diver and photographer for the day, Patrick Kyles.
I am humbled by the generosity of my fellow team members in making themselves, their knowledge and experience available to the Mountcharles Community by taking on this challenge.
#0710# equipment stowed, safety checks completed we set off for No2 Inishdooey. Our master plan takes an early hit. We cannot do a beach landing as planed due to a change in wind direction. We are forced to make a difficult landing on a rocky shore. The knowledge, experience and professionalism of the boat crew comes to the fore in executing a perfectly safe landing for us in difficult conditions.
#0758# We climb up from the shore and head uphill to the north. It is very reassuring for me to have a walker with John's experience along for this challenge. I take a call from Ocean FM. The challenge is generating widespread interest. From the highest point we see below us in the centre of the Island ruins of a small community. The centre piece turns out to be a church which I understand dates back to 900AD (See Ros Harvey's book "Donegal Islands". John updates our facebook page with text and photos for our many followers and will continue to do so all day.
As John and I travel back along the cliff to Patrick shoot a video clip with voiceover via VHF.
We are safely extracted from No2 #0825# and onwards to No3. We are again reminded of the expertise of our boat crew as we observe big grey black rocks protruding from the sea all around us. Beware where you see lobster pot markers the tell us…mental notes are taken.
#0858# The landing on No3 is safe but difficult, stepping onto a cliff face, assisted by dry suit wearing (just in case) Patrick and scurrying upwards to terra firma.
Inish beg means small island, and that it is but not too beg to graze two dozen or so fine ewes. I wonder how they were landed there and remember what our skipper had been told about landing here…. "on a good day and in the middle of a good spell". Another chat with the scribe Seamus Mc Manus at Ocean Fm.
We leave the way we came, via cliff face, expertly plucked off.#0918#
We are facing the longest leg at sea for the day, 15km to Inish Irrer (East Island), around Bloody Foreland. I wonder how John will fare out. It blowing lightly from West South West ( the Norwegian was right again) and we are facing into a biggish rolling sea (this is full blown Atlantic) John takes to it like duck to water and we are shown how to comfortably ride the waves on the side tubes (marines style) during the speedy, bouncy trip.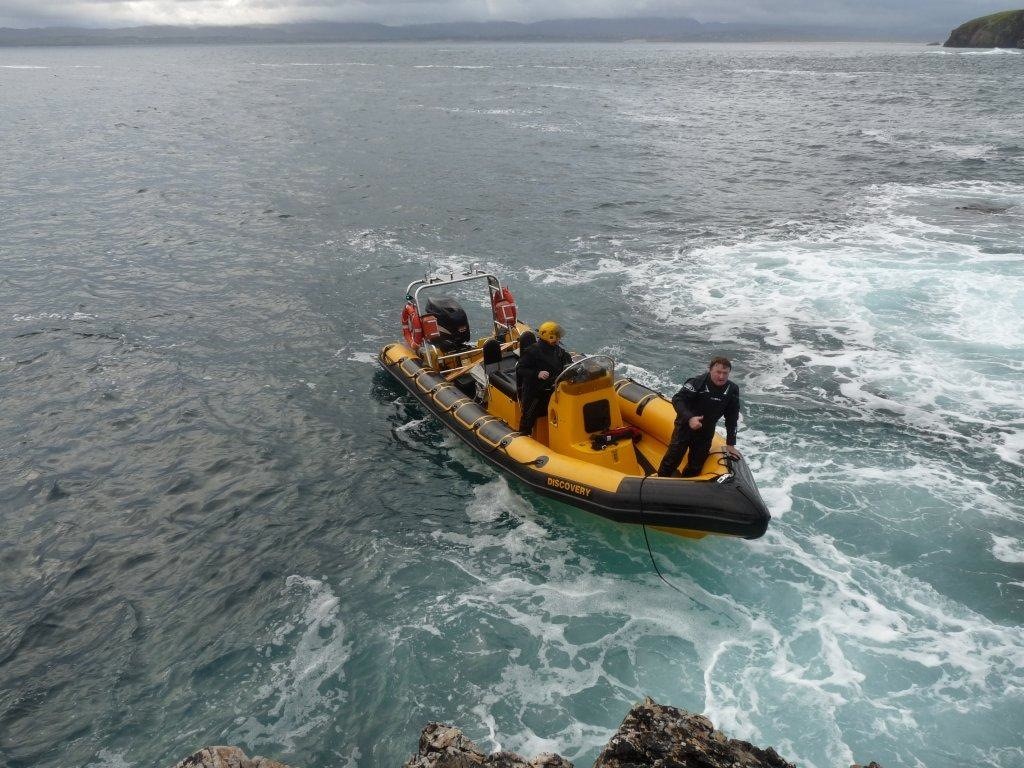 Inish Irrer is two kilometres long and there is only one safe landing spot, a small pier on the south east corner ( which means we will have to walk it both ways). We disembark and enjoy a communal breakfast of water, sandwiches and Hi Pro bars (thanks Lorraine). #0957#We wave goodbye and set off across rough, difficult, grassy terrain, past a fresh water lake, through a village of derelict houses, towards the lighthouse on the North West corner. The going gets easier and the scenery is breathtaking, cliffs, inlets, blowholes and distant islands. We make our way back, like penguins on the march, used to each other's stride. More video.#1050#
As we leave the sea around the pier is almost rockless, hiding a virtual forest of underwater outcrops, lethal to any amateur, well known to our pros.
#1106# Inish Mean (middle Island). Excellent Pier. There's a cared for feel to the place, beautiful curragh stowed upturned at the pier head, a grotto further on, a concrete road, houses being renovated, we could feel new life being breathed into this place. As with all rocky outcrops, there is usually a lake or a swamp. Again the scenery is very dramatic. Magnificent views of island we had and had yet to travel. I'll be back here. #1136#
#1145#And so on to Gola. I visited last year with Ann and am looking forward to returning. There's activity on the pier, a halfdecker berths ahead of us, the first people we have met since leaving Bofin. We go cross country, even though the island is well served by roads. We go north to the highest point and spend some time looking down on our previous conquests. Gola is famous for rock climbimg and it's easy to see why. From the grotto remembering two islanders who died in 9/11 we go south to the second pier (the only island we will visit with two piers).On our way we meet two ladies who had visited 10 islands in 15 years and proud of it. Not sure how they felt about our statistics, 10 in 1, the sponsored us on the spot. Our boat is anchored off. More video. We meet at the pier and eat again.#1235#
#1320# Owey. Only one way in. Beautiful little inlet with steep steps up from the pier. A grotto. Steep cliffs surround the island. We walk through a clump of houses meet a man from Carricfergus and try to remember who actually wrote the song. Wooden houses seem to be a practical option on a number of islands. Easier transported I guess. We see a man with four dogs and marvel at their freedom to run and roam. The back of Owey is breathtaking. Words don't do it justice. Go see it.#1415# As we leave Owey I study Cruit, that mainland Island I have often visited with my family, looking longingly at Owey, dying to visit.The Golf course is a sea of colour, Hello Paddy.
A long sea leg to our next stop. I remember wondering or even worrying about John's sea legs. Big mistake. Like a kid in a candy store. The local lad pointed out some landmarks as we came in shelter of Arranmore.
Inish Caoragh (Sheep Island). A new high pier. Tide is low so a long ladder climb. I read somewhere that the row of houses on the shorefront got flooded a few times over the years. Before the big sea wall went in I guess. Like a number of islands we visited people are coming back to this island. Wonderful to see it. We eat, a little often is best for walking. #1520# We walk around, not across this one. Dunrings ( big round rocks, overgrown pebbles) everywhere. Difficult to walk on. The old school house, one room, concrete roof, very close to the shore but on higher ground. A shaly beach brings us back to the pier. We pose for a group photo. A team forever bound by this adventure.#1535#
We steam across to Inish free, slowly as the bay is surprisingly shallow, its a very low tide. We are trying to get ashore on the west side of Inishfree so we can fulfil our undertaking of walking across every island, but in this case only once. We pass a man and boy in a wooden punt, checking pots behind Tearmain. Our landing here is quite unorthodox. They draw lots, the looser gets to carry me the last ten yards ashore, what rotten luck! #1550# We get on the road and stay on it, as it twists and turns its way west, past wind and sun harvesters and an old school to the beautiful beach and fresh new houses close the pier. As we exit the pier a chopper flies over. Some friends wishing us well.#1640#
Accessing Rutland from the Inishfree side proves unsafe for man and boat so we are put ashore on a beautiful beach just in from the busy channel taken by Aranmore ferries on their way from Burtonport (Surreal since my family and I had landed in this very spot many years ago)#1705#. John and I head ftowards Inishfree on the beach which recently saw the fatal beaching of a pod of whales which had travelled from Scotland. We go out along the beautiful beach in awe of the views of Aranmore , the other islands and rocky outcrops being battered by sunlit waves. We take the same route back for part of the way then climb up on high sandunes with the windmill in the Port as our guide. We pass the now landed helicopter and are stilled and videoed by our wellwishers. John has often seen Duck Street in the distance, on his way to Aranmore on the ferry and is anxious to visit it now that he is on the island. Built many years ago to house members of the merchant navy it is now being rebuilt into beautiful holiday homes. We take a diversion to look at the old trading buildings overlooking the channel and the other Burtonport islands we have yet to conquer…. but that for another day..we are done here… we have achieved our goal …we have traversed our designated Ten Islands in one day…in fact in just under twelve hours…it's #1755#. Handshakes all round as we return to Discovery and her hardy crew and head for land in Burtonport.
Many thanks to Eamon, Patrick, John and everyone who helped in any way to make the Ten Island challenge a reality.
Ends
Tags: