A well-known Donegal estate agent is offering the ultimate house-deal – buy one house and get the one next-door completely free!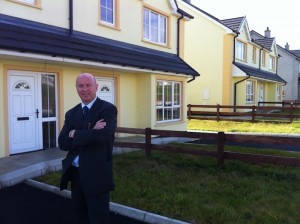 Estate agent Brendan McGlynn has a number of houses on his books in various parts of the county.
Now the Letterkenny-based businessman is selling a number of houses for €100,000 and is throwing in the keys for the house next door for free.
He told Donegaldaily.com that the offer is an attempt to move on houses and allows builders to begin work on their next project.
The offer relates to three different properties in both Letterkenny and Milford.
"There is absolutely no catch – you buy one and you get the house next door free.
"These are not houses on a ghost estate – far from it.
"We think it's a really good deal and the idea is to get the last of houses on established residential estates sold.
"We have houses in two different estates in both Letterkenny and one in Milford which are the last houses on each estate.
"If we can sell the houses we can move on to the next estate and try and keep things going," he said.
Some of the houses even have kitchens and fireplaces fitted.
One house, number 38 on the Gleann Rua estate in Letterkenny has been put on the market for €120,000 and the house next door, number 39, has also been thrown in for free! Both these houses have four bedrooms each.
There are also two other houses on the same estate up for sale at the same knockdown deal.
The other house is located at 28 Cooper's Crescent in Milford and is a three bedroom semi-detached house. Again the deal here is buy one house for €100,000 and the house next door – number 29 – is free!
Brendan, of Brendan McGlynn and Associates, says the houses are a perfect opportunity for young people to get on the housing ladder.
And he also says the offer is an attempt to fill up vacant houses on the estates.
"There is nothing worse than seeing a few vacant houses on an estate when the rest of the area is looking well and people are living happily together.
"It brings the tone of the area down and that's part of the idea for doing this offer.
"Even if two young families come together, this could be the perfect opportunity for two young families.
"People are finding it difficult to get money but people don't need a huge amount of a deposit to get a house – or even two!," said Brendan.
* FOR FURTHER DETAILS ON THIS AMAZING OFFER SEE THE DONEGALPROPERTY WEBSITE WHICH FEATURES AS AN ADVERT ON DONEGALDAILY.COM
Ends
Tags: