Finn Harps travel to Waterford United this evening (kick-off 7.45pm ) on the back of a run of results that has seen them lose just once in the last five games.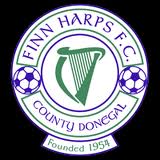 On the way, Harps have picked up ten points and have kept four clean sheets. The only defeat in those five games came against First Division Champions elect Shelbourne.
Last weekend, Harps played for an hour with ten men and picked up a 0-0 draw against promotion chasing Monaghan United. Harps Manager Peter Hutton was obviously delighted. "Their 'keeper pulled off two or three excellent saves and although the draw with ten men against Monaghan was an incredible result, the boys were actually a wee bit disappointed that they didn't go on and win the game. I think that tells you what kind of frame of mind the players are in these days."
Tonight's trip to Waterford will be a tough test for Harps, and one that will give Hutton and Felix Healy another indication of the progression since they came on board at the start of May. "It's a daunting journey especially if you don't come back with any points on the board, so we'll be going down looking for all three points. And given the way the boys have been playing recently they are looking forward to the trip now," said Hutton.
"It's part of the incentive to try and get a result. We're trying to pull in the teams just above us, so a win would be great for us in that sense. But there's no getting away from it that it's a difficult place to go and they're a difficult team to play against.
Harps haven't won at the RSC in ten years, and the last four trips there have all resulted in defeats. However, the last meeting between the two sides ended in a 1-0 victory for Harps, courtesy of Kevin McHugh's strike at Finn Park in June.
"We beat them at Finn Park earlier in the season but for the last ten minutes it was all hands on deck," said Hutton. "They just threw everything at us and became very direct. They're a very physical side, so we'll have to be on our toes at all times."
Gareth Harkin will sit the game out through suspension after his red-card last week, but Packie Mailey is back training and could make his first appearance since June – coincidentally which was against Waterford.
"Packie trained on Tuesday and Wednesday night and if it seems like there is no reaction to his initial injury then he may well come into the fray for Waterford. He's obviously short on match-fitness but the only way he'll get that back is by playing in games," Hutton said during the week.
~~~~~~~~~~~~~~~~~~~~~~~~~~~~~~~~~~~~~~~~~~~~~~~~~~~~~~~~~~~~~~~
Suspended: Gareth Harkin, Aaron O'Hagan.
Doubtful: None.
Injured: Peter Hutton (hamstring).
Form Guide (last six league games)
Finn Harps: L-W-W-L-W-D (10 pts)
Waterford United: L-L-D-L-W-L- (4 pts)
~~~~~~~~~~~~~~~~~~~~~~~~~~~~~~~~~~~~~~~~~~~~~~~~~~~~~~~~~~~~~~~
Previous away games against Waterford United
09-Sep-05 – Waterford United 2-2 Finn Harps (Premier Division)
23-Nov-07 – Waterford United 3-3 Finn Harps (Promotion/Relegation Play-Off)
28-Jul-09 – Waterford United 4-0 Finn Harps (First Division)
23-Apr-10 – Waterford United 2-0 Finn Harps (First Division)
09-Oct-10 – Waterford United 3-1 Finn Harps (First Division)
25-Mar-11 – Waterford United 1-0 Finn Harps (First Division)
~~~~~~~~~~~~~~~~~~~~~~~~~~~~~~~~~~~~~~~~~~~~~~~~~~~~~~~~~~~~~~~
Finn Harps Goalscorers 2011
Kevin McHugh – 10
Blain Curtis – 4
Marc Brolly – 3
Kevin Devanney – 1
Keith Cowan – 1
Gareth Harkin – 1
~~~~~~~~~~~~~~~~~~~~~~~~~~~~~~~~~~~~~~~~~~~~~~~~~~~~~~~~~~~~~~~
Finn Harps Results 2011 (Harps goalscorers in brackets)
4th September 2011 – FD – Finn Harps 0-0 Monaghan United
20th August 2011 – FD – Athlone Town 0-1 Finn Harps (McHugh)
13th August 2011 – FD – Finn Harps 1-2 Limerick (Brolly)
6th August 2011 – FD – Finn Harps 2-0 Mervue United (Devanney, Curtis)
22nd July 2011 – FD – Wexford Youth 0-2 Finn Harps (Curtis 2)
16th July 2011 – FD – Finn Harps 0-3 Shelbourne
9th July 2011 – FD – Longford Town 2-3 Finn Harps (Cowan, McHugh)
2nd July 2011 – FD – Finn Harps 0-2 Cork City
25th June 2011 – FD – Salthill Devon 0-4 Finn Harps (McHugh 3, Curtis)
11th June 2011 – FD – Finn Harps 1-0 Waterford United (McHugh)
6th June 2011 – FAI – Finn Harps 0-1 Longford Town
3rd June 2011 – FAI – Longford Town 0-0 Finn Harps
30th May 2011 – FD – Monaghan United 1-0 Finn Harps
26th May 2011 – FD – Finn Harps 1-0 Athlone Town (McHugh)
20th May 2011 – FD – Limerick 1-0 Finn Harps
13th May 2011 – FD – Mervue United 2-1 Finn Harps (Brolly)
5th May 2011 – FD – Finn Harps 0-1 Wexford Youths
29th April 2011 – FD – Shelbourne 1-0 Finn Harps
22nd April 2011 – FD – Finn Harps 1-2 Longford Town (Brolly)
19th April 2011 – FD – Athlone Town 1-0 Finn Harps
15th April 2011 – FD – Cork City 5-0 Finn Harps
8th April 2011 – FD – Finn Harps 0-0 Salthill Devon
28th March 2011 – EA – Mervue United 1-0 Finn Harps
25th March 2011 – FD – Waterford United 1-0 Finn Harps
18th March 2011 – FD – Finn Harps 2-2 Monaghan United (McHugh 2)
4th March 2011 – FD – Finn Harps 2-2 Limerick (McHugh, Harkin)
Tags: