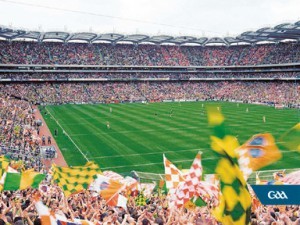 DONEGAL GAA fans are harvesting the benefits of being beaten in the All-Ireland semi-final – by charging Dublin fans up to €500 for tickets to All-Ireland final on Sunday week!
Various websites are offering the tickets – with one Donegal fan even offering to personally deliver his tickets to the capital in time for the big game.
And no wonder, he'd make a whopping €880 profit!
Dubs are going mad for tickets for the Championship showdown with Kerry.
They are furious with the allocation they have been given for the game.
With so many fans wanting to see the game, and so few tickets available in the capital, a campaign has been launched to put up big screens around Dublin for fans!
Councillor Deirdre Heney called on council officials to "provide a big screen in one of our public spaces or city parks so as many fans as possible can enjoy the All-Ireland Football Final in the company of fellow GAA supporters".
She said the issue of tickets has proven "too difficult" for fans to obtain.
Cllr Heney identified public spaces such as College Green and Dawson Street to accommodate large crowds.
She said both areas have been used in the past for sport homecoming events.
"Either of these spaces, or some other public central public space, would accommodate GAA supporters from across the city who are otherwise unable to get tickets," she said.
"This is hugely important to the public. Tickets are scarce and it would provide a great opportunity for people to watch the game in the city."
Tags: