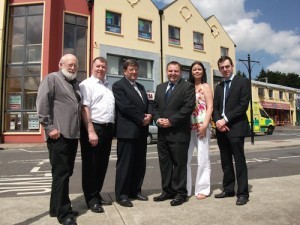 Large numbers of Sinn Féin members from Donegal will attend the Sinn Féin Ard Fhéis (Annual Conference) which will be held this weekend (9th and 10th September 2011) in the Belfast Waterfront.
Some 2,000 delegates will attend the conference from across the 32 counties and abroad.
Speaking ahead of the Ard Fhéis Donegal North East Sinn Féin TD, Pádraig Mac Lochlainn said: "This weekend the Sinn Féin Ard Fhéis will meet in Belfast for the first time in the history of the party.
"Since the party last gathered for the Ard Fhéis we have consolidated our position as the lead nationalist and republican party in the North and made a significant breakthrough in the South. In Donegal, we are now the largest political party following the Dáil elections, earlier this year.
"The party president Gerry Adams has become the TD for Louth and Paul Maskey has recently won the West Belfast Westminster seat.
"We are heading into the weekend a confident party, a party buoyed by success and very focused on the challenges ahead.
Donegal South West Sinn Féin TD, Pearse Doherty said: "The theme of the weekend is Towards a New Republic- I dTreo Poblacht Nua.
"Some 2,000 delegates and visitors from across all 32 counties and abroad will gather to discuss almost 200 motions.
"Of particular emphasis will be the current economic situation with the imposition of Tory cuts in the six counties and the continuation of flawed policies by the Fine Gael/Labour government in the south.
"International guests will include Fady Abusidualghoul, Fatah international relations commission representative; Dr Mathole Serofo Matshekga of the African National Congress, Ana Mazo, Basque activist; Patricia McKeown, Northern Secretary of Unison; Congressman Richard Neill and Derry Presbyterian Minister, Rev David Latimer.
"We are looking forward to what is going to be an energetic and positive Ard Fheis."
Tags: