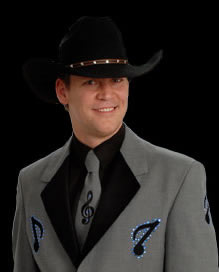 Hello Everyone and welcome along to the 10th edition of Country Corner. I hope you's all enjoying it as much as I am writing it, keep your comments coming in – lots more to come in the next few months ahead.
Country Music News
Robert Mizzell is ready to launch his Brand New CD entitled Mama's Rocking Chair – 13 great songs on it from one of Ireland's Top Country stars on the circuit – on the CD is the popular song Paddy, and a duet with his good friend and band leader Martin Cleary called Sick Sober and Sorry, as well as the 2 singles – I Ain't Fallin For That and the new single written by Peter Mc Keever from Eglinton called Cajun Dance.  Check out Roberts website at www.robertmizzell.com for all the latest news and dancing dates.
Curtis Magee – has just released his brand new DVD called – Bring Me Back To Old Ireland – curtis highlights the hits from the previous 2 albums on this great, fun DVD, for further details check out www.curtismagee.com
Kenny Paul – from Maghera has released his brand new CD which is called – King Of The Road – CD 19 from a very underrated singer. Kenny Paul has hints of Jim Reeves in his velvet voice.
John Dolan, from Letterkenny has released his new single called Wagon wheel – please request it on all radio stations.
Congrulations to All The Winners in the 2011 Parade of the Stars, we had over 6,302 emails – thanks to everyone for taking part.
Patrick Feeney – Male Vocalist Of The Year
Lisa Mc Hugh – Female Vocalist Of The Year
The Sierras – Best Duo Of The Year
Mick Flavin – Male Lifetime Achievement Award
Steve Farlow – Best Local Act
Josies Country Tavern – Venue Of The Year
Kym Kelly – Best Breakthrough Act
Johnny Loughrey – Lost Heroes Of Country
Georgette Jones TOUR KICKS OFF THIS WEEKEND.
As you know, Georgette is the only daughter of Country Music's most legendary marriage between the undisputed King and Queen of Country Music, George Jones and Tammy Wynette.
Georgette will be paying tribute to the music of both her parents, as well as showcasing her own special brand of 'Urban-Country' Music in Donegal.
Georgette is bringing her show to the Great Northern Hotel, Bundoran on Friday 9th September and to the Mount Errigal Hotel, Letterkenny on Friday 16th September. Georgette will be joined in Bundoran by Ireland's very own Louise Morrissey and Mick Flavin, who will be paying tribute to the music of 'George and Tammy'. Also, appearing with Georgette in Bundoran on the 9th will be Ireland's Lisa Stanley, who shared many of Georgette's experiences – being the daughter of Ireland's Maisie McDaniels! Also, appearing on the night will be Donegal's prodigal Son – Quincy Raye as well as Jessie Conlon.
Georgette will be joined in Letterkenny by the 'George and Tammy' of Ireland –Ray Lynam and Philomena Begley as well as the Prince of Irish Country,Aiden Quinn, who will duet with Georgette on the night singing there brand new single – Golden Ring Also, Donegal's own Quincy Raye will take to the stage, as a great surprise for Letterkenny audiences is promised!
Georgette will also be performing around the Country at the Ardboyne Hotel in Navan on Thursday 8th, The RadissonBlu Hotel in Galway on Saturday 10th, the New Park Hotel in Kilkenny on Sunday 11th, the Clonmel Park Hotel on Tuesday 13th, the Red Cow/Moran's Hotel Dublin on Thursday 15th, the Four Seasons Hotel Monaghan on Saturday 17th, the River Bank Hotel in Wexford on Sunday 18th and the Dolmen Hotel in Carlow onTuesday 20th. Georgette will also be special guest at this years World Ploughing Championships in Athy County Kildare and will meeting and greeting fans at the Irish Country Sound Pavilion from Tuesday 20th to Thursday 22nd.
Dancing Dates
Saturday 10th Sept 2011
Riverclub (Castlefin)
Gary Gamble & Band
Saturday 10th Sept 2011
White River Hotel (Toome)
Nathan Carter & Band
Sat 10th Sept 2011
The Ryandale, (Moy)
Jason Mc Gilligan & Band
Sat 10th Sept 2011
The Allingham Arms Hotel (Bundoran)
Patrick Feeney & Band
Mon 12th Sept 2011
Bushtown House Hotel (Coleraine)
Patrick Feeney & Band
Jiving classes commence in the Inishowen Gateway Hotel, Buncrana on the 15th of September @ 9 pm with All Ireland Champion Dance Teacher Gerard Butler , for more details contact Gerard on 0868986004
We recommend that where possible you confirm the date with the venue before traveling (especially long distance).
Dont forget to tune into me on 105fm or 107.6fm or online at  www.icrfm.ie every Tuesday between 3pm and 4pm this Tues 13th Sept I'll be talking to Georgette Jones. You can also get in touch with me at stephendoherty2008@gmail.com or visit my website which is www.keepitcountryradioshow.co.uk
Tags: