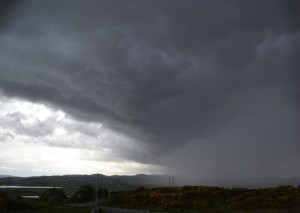 OK folks. Let's not panic…here's some advice on dealing with a major storm. Not all of it will be relevant, but there is the possibility of damaging winds and flooding in some areas.
So get those hanging baskets indoors and follow the advice appropriate to you:
Before the storm (that means now)
Secure loose objects such as ladders, garden furniture, plant pots or anything else that could be blown into windows and other glazing and break them
Close and securely fasten doors and windows, particularly those on the windward side of the house, and especially large doors such as those on garages
Park vehicles in a garage, if available; otherwise keep them clear of buildings, trees, walls and fences
Move valuable items, including important documents, to high levels
Ensure you have bottles of drinking water in case the water supply becomes contaminated
During
Stay indoors as much as possible — if you do go out, try not to walk or shelter close to buildings and trees
Keep away from the sheltered side of boundary walls and fences — if these structures fail, they will collapse on this side
Do not go outside to repair damage while the storm is in progress
If possible, enter and leave your house through doors in the sheltered side, closing them behind you
Open internal doors only as needed, and close them behind you
Take care when driving on exposed routes such as bridges, or high open roads, delay your journey or find alternative routes if possible
Never try to drive through flood water — 80% of flood deaths occur in vehicles.
Avoid walking through flood water, streams or rivers in full flow — just six inches of rapidly moving water can knock a person over
If you have to evacuate your home or workplace turn off those utilities you can access
Avoid driving unless you journey is absolutely necessary
After the storm
Be careful not to touch any electrical/telephone cables that have been blown down or are still hanging
Do not walk too close to walls, buildings and trees as they could have been weakened
Make sure that any vulnerable or elderly neighbours or relatives are safe and help them make arrangements for any repairs
Check structural damage to buildings
If it is dark, use a torch, not candles
Throw away all foods, including canned goods, which have come into contact with flood water.
Tags: