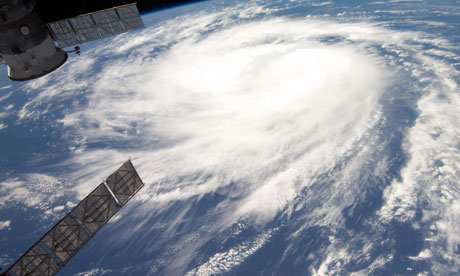 10.35PM UPDATE: THE first rains and winds from the powerful remnants of ex-Hurricane Katia are coming ashore in Donegal now, with storm force winds according to all the main forecasts in the early hours and getting stronger in the afternoon.
There are fears that the wind gusts – the worst since September 1961 – could bring down power lines.
The storm could now last until Tuesday, the BBC in Belfast has just reported.
And irishweatheronline has just updated for Donegal saying: "Donegal and north Ulster further east, the strongest winds are now likely noon to 6 p.m. when the gradient increases there."
Winds South to South Westerly will rise to around 70 miles per hour into the early hours. Because of the tropical air, temperatures overnight may not fall any lower than 12C to 15C.
Rainfalls of 10-30 mms are expected, amounts dependent on tracks of heavy showers.
The full force of the storm will be felt from about 5am to 6am over County Donegal according to the latest information from Met Eireann (RTE), the UK Met Office (BBC) and irishweatheronline.com. It is likely to continue at that pace for several hours, possibly through until 6pm and although they will ease, it will still be very stormy.
The BBC says high steady winds of 70mph will continue throughout Monday, only tailing off tomorrow night.
High waves of 8-15 metres and large swells can be expected with some local flooding likely especially around high tides (morning and evening hours tomorrow).
Two weather warnings (Ireland/UK) are from midnight below:
WEATHER ALERT IRELAND: 00hrs-1800hrs, Monday 12 September 2011
IWO – Strong winds and gusty showers or thunderstorms spreading in from the southwest Sunday night and easing mid-day Monday although some severe gusts could then continue in the north. Peak gusts may reach 90 mph (about 80 knots) in the northwest and much more locally in any severe storms further south. Some wind damage may result. There are also risks of coastal flooding from very high tides and large waves, swells.
WEATHER ALERT UK: 00hrs-1800hrs, Monday 12 September 2011
UK Met Office – The remains of Hurricane Katia will move eastwards across northern Scotland during Monday, bringing a spell of very windy weather to the UK and also heavy rain to western Scotland. The strongest winds are expected to affect parts of Northern Ireland during the morning, before moving east across central and southern Scotland and into northeast England by evening. However, areas further south will not be immune, with the potential for strong gusts, particularly to the east of high ground. The public should be prepared for the risk of disruption to transport and of the possibility of damage to trees and structures.
Tags: