A Donegal auctioneer who is offering "two houses for the price of one" has received phonecalls and emails from around the world about the properties.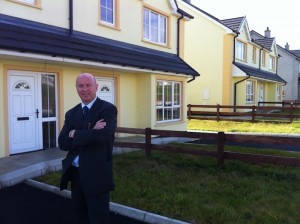 Donegaldaily.com first revealed last Friday how estate agent Brendan McGlynn offered house-buyers the chance to buy a house for €100,000 and was throwing in the keys for next-door for free.
The Letterkenny-based businessman had six houses to sell in all in Letterkenny and Milford and says he has been shocked by the response.
"I'm hoping they will be sold in the next couple of days. The response has been incredible.
"We have received calls from as far away as Australia and America. One man is travelling over from England in the next couple of days.
"People are already on the way up to Donegal from Cork, Naas and Dublin to see the houses.
"I would like people to see the houses before they decide to buy them as they are selling "as seen'," he said.
The house-builder gave Mr McGlynn to sell the houses at a bargain basement price in a bid to sell the last houses on two respective estates and allow him to move on to a new project.
Mr McGlynn said staff at his office had been busier this morning than they had been for the previous month as a result of the offer!
"It's not a fire sale or these houses aren't on a ghost-estate. These are good houses which need a small bit of work to finish them – perhaps €10,000.
"But what people see is what they get and they will realise they are getting a genuine bargain.
"There are people travelling from across the country to see them. When things start to turn around these houses will be worth considerably more than what they are being sold for," he said.
Ends
Tags: