The Harvest Fair in Glenties is still going ahead – despite the threat from Hurricane Katia.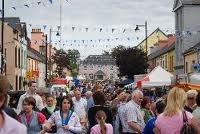 Dozens of stallholders have arrived in the town over the weekend for the annual event which attracts thousands.
However the number of traders are down because of the bad weather.
A large tree already blew down overnight on the outskirts of the town but has since been cleared.
With the worst of today's storm set to hit between midday and 6pm, members of the public have been warned to take extra acre if travelling to the fair.
Stallholders have managed to overcome the bad weather by moving inside the community centre!
Gardai are also advising motorists to take extra care.
"The winds are really beginning to pick up so we are asking people to be very careful and only travel when necessary," said a Garda spokesman.
Ends
Tags: