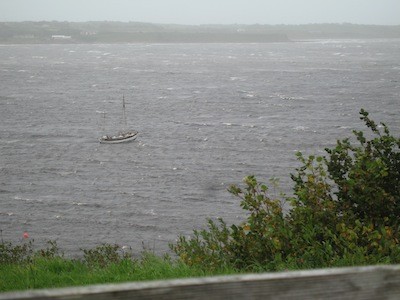 LATEST: WINDS are easing in many parts of Donegal tonight – but it's still VERY stormy!
Gusts of around 110km/hr can still be expected throughout this evening and our seas remain choppy – as shown in this picture of a yacht at Inver Bay.
The worst of the ex-Hurricane Katia are over however, though the gusts that will be around for a few more hours yet could still cause damage to power lines and rip branches off trees.
AA Roadwatch and gardai have appealed to motorists to exercise extreme caution on the roads overnight as debris from the storm and excess surface water could add to the danger.
More than 6,000 homes lost power in the county today, but tonight just 200 homes are without power and ESB says crews remain on standby in case of any other emergencies.
Earlier the Coastguard was alerted when a man fell overboard from a boat in Mulroy Bay but he was able to make his own way ashore safely.
Tonight forecasters said winds would ease to 80km/hr, still very breezy but not as bad as earlier today.
Tags: