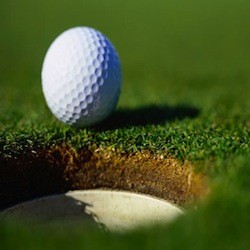 Otway Golf Ladies Notes, BY HAZEL RUSSELL
The monthly 18 hole competition continues throughout September sponsored by Cable & Accessories.  However, there was a disappointing turn out on Saturday last for the Hill 16 Sponsored event, which was more than likely as a result of the poor weather and even worse forecast.   Nevertheless, the scoring was pretty good with Lady Vice Captain Brighdin McDaid (36) claiming victory on 36 points.   Christine Brown was runner up on 35 points with a whopping 23 points on the back nine, to beat Ann Cullen on break of tie.
There may be a fixture or two yet to play because of cancellations earlier in the year, but regrettably the next event on the schedule is the Christmas Hamper, dreadful to think that we are coming to the onset of winter once again.   In the meantime, the Mary McDaid Memorial event is taking place at Portsalon Golf Club this Saturday 16th and we wish the ladies an enjoyable day.   This is an annual event which encompasses our neighbours Rosapenna, Letterkenny and of course our hosts Portsalon and is played in memory of deceased members of any of our clubs, so we sincerely hope that the weather improves and all have a pleasant day.
Tags: