A Donegal criminal handed a cashier a note telling her she was being robbed as he held up a betting office.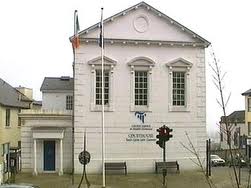 Gavin Mitchell stole more than €500 when he jumped the counter of Wizzy Browne's bookmakers.
Letterkenny District Court heard Mitchell became frustrated because he could not understand what his flatmates were saying.
The separated father–of-three ran out of his flat and into the nearest building which was Wizzy Brown's bookmakers.
He handed the cashier a note saying "You are being robbed" and then jumped over the counter grabbing €500.
Mitchell was later arrested by Gardai and admitted robbing the betting office in February 2009.
Solicitor for the accused, Frank Dorrian, said the incident arose when Mitchell's flatmates began shouting "kulwa" at him which means 'Bast***' in Polish.
"This was not a planned robbery. There was some sort of tussle because he could not understand what they were saying.
"He went charging down the road and went into the first premises he came across," he said.
He added that Mitchell had been in and out of prison since he was 14 years of age and had spent the majority of the last 13 years behind behind bars.
It eas also revealed how Mitchell had been addicted to class A drugs including heroin and cocaine but was not trying to beat his habit.
Letterkenny District Court heard how Mitchell made a full admission and that the cashier was not seriously injured despite being pushed.
Judge Paul Kelly said it was a frightening and terrifying experience for the cashier but fortunately there was no weapon involved.
He said he hoped Mitchell was dealing with his drug addiction and sentenced him to ten months in prison for the robbery.
Ends
Tags: