There is widespread shock this morning following the news of the sudden death of Letterkenny businessman Jim McCormick.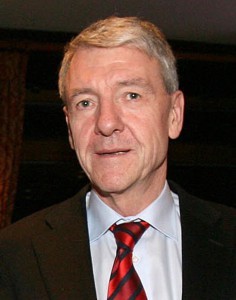 The owner of the very successful Magee's Chemist in the town is understood to have passed away suddenly while holidaying with his family in Spain.
It is understood Mr McCormick was in Spain to celebrate his wife Fionnuala's birthday.
It is believed Mr McCormick passed away just after 2am after visiting the toilet.
Mr.McCormick, 69, was known throughout Ireland not only for his success in business but also his dedication to the tidy towns efforts on Letterkenny.
Tributes are already flowing in for the hugely-respected businessman and community activist.
Chief Executive of the Letterkenny Chamber of Commerce, Toni Forrester, said Letterkenny and Donegal will be so much poorer for Jim's untimely passing.
"No matter what you asked Jim for he got it done. He was the ultimate community activist.
"But as well as that he was just a real gentleman. He was a past President of the chamber and was businessman of the year.
"He will always be remembered as Mr Tidy Towns and was the driving force behind Letterkenny improving so much over the years.
"Unfortunately for him he never got to win the big prize with Letterkenny but it certainly wasn't for the lack of trying. He will be sadly missed," she said.
Local town councillor Tom Crossan, a leading member of the tidy town's committee, also paid tribute to his friend.
"It's going to be a difficult time for Letterkenny to pick up the pieces after Jim's death," he said.
Mr McCormick is survived by his wife and three sons Brian, Gerard and Eoin.
*Tributes to the late Mr McCormick can be left at the bottom of this item.
Ends