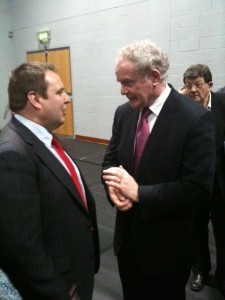 LETTERKENNY Sinn Fein councillor Gerry McMonagle has hit back at RTE radio shock jock Joe Duffy because of attacks on Martin McGuinness.
Cllr McMonagle was reacting after some Sinn Fein members felt that Duffy had been unfair yesterday by giving over his show to a wave of attacks on the Derry man.
McGuinness topped a flash poll on the RTE show today with 5,947 votes.
David Norris was just over 200 votes behind him at 5,732 votes.
Fine Gael's Gael Mitchell got 2,668 votes, followed by Independent Mary Davis at 2,314 and Michael D Higgins at 2,194. Dana secured 1,424 votes and Sean Gallagher came in last at 1,290 votes.
In a post on his Facebook page, Cllr McMonagle taunted: "‎22,000 people text Joe Duffy show in a 10 minute flash text on who should be the next President and after Joe giving Mc Guinness the worse PR he could give him who do you think won? Martin of course!!! Put that in your Pipe Joe."
Tags: