Most grooms hate the one hundred and one details about organising a wedding.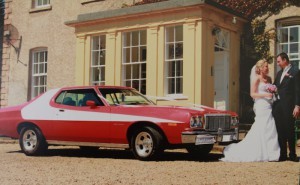 But for Hugh Sweeney, his one detail was a labour of love – even if it did take him more than a year to get right!
While wife-to-be Joanne arranged the dresses, suits, flowers, hotel and invitations, Hugh, 29, organised the wedding car.
But his was no ordinary wedding car.
The electrician from St.Johnston had always dreamt of arriving at the church in Starsky and Hutch style!
And so he went about building his very own replica Gran Torino sports-car from the 1970s American TV cop show complete with dashing white stripe.
"It was just something I always wanted to do. I loved the car and I loved the television show.
"I told Joanne about it and she just said 'why not?'.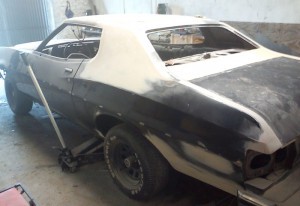 Hugh bought the shell of the car from Marshall Motors in Michigan, USA and then imported it.
What followed was a year long labour of love spraying it, fitting new floors, new upholstery – a project which only finished a few hours before he walked down the aisle on July 23rd last.
"Myself and my friend Adrian Duffy, who was the real brains behind the project, were up until 2.30am putting on the white stripe but it was worth it," he laughed.
Hugh along with bestman Mark McCauley and groomsmen Stephen Graham and Roderick McCready arrived in style at St.Baitin's Church where they turned heads.
After the ceremony Hugh and new wife Joanne made their way to the Radisson Hotel in Letterkenny where the car was the talk of the wedding reception.
Hugh said Joanne didn't mind Hugh spending so much time fixing up their wedding car revealing she even helped him search on-line for parts!
The couple went on holiday to Florida and car-fanatic Hugh revealed how they even took in a couple of car shows along the way.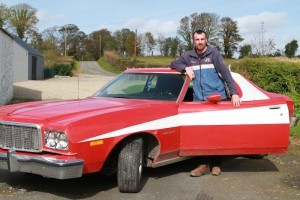 The Grand Tarino now sits proudly at the couple's home but with its 5.8 Litre petrol engine, Hugh admits that getting just 8 miles to the gallon doesn't inspire long journeys.
The car is now worth at least €20,000 and Hugh says there may be a small problem as the couple settle down to married life.
"It's only a two door. I might have to go and look for a five door if we ever think of extending the family," he laughed.
Ends
Tags: