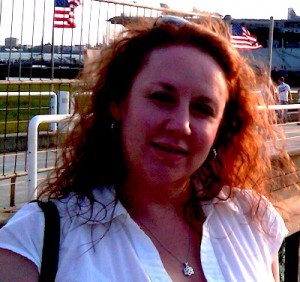 The family of miracle tourist Kelly Jones have paid tribute to the people of Donegal for helping to find her.
In a message sent to donegaldaily.com from the United States last night, her cousin Dana Bailey described Kelly's rescue from a renovated rectory in Glencolmcille yesterday as "great news."
And in a message to local people, gardai, mountain rescue volunteers, coast guard officials and members of hill walking clubs, Dana told us: "Thanks so much for not giving up the search for my cousin Kelly.
"Our family greatly appreciates everyone's efforts."
Kelly's dad Ricky is flying in from the southern American state of Georgia tonight and is due to arrive in Ireland tomorrow.
The tourist will be interviewed by gardai at Sligo General Hospital later today if she is well enough to answer questions.
Gardai want to trace her movements from Saturday past at 11am until her miracle discovery at 12.30pm yesterday when she was spotted inside the old rectory on the outskirts of Glencolmcille – and around 300 metres from the local GAA club where rescue HQ had been set up.
CRIME SCENE
Last night scenes of crime officers from An Garda Siochana sealed off the building for a meticulous forensic examination. Gardai want to know if Kelly was held against her will at any stage.
Gardai believe she may have been there for up to three days but aren't certain at this stage. Two searches were made in the grounds around the building by volunteers. There was no sign of anyone in the house during those searches, though the building – which was locked – was not searched.
A window was smashed at the house, but it is unclear whether this was done by rescuers or before they arrived.
Kelly was found by local volunteers who noticed her inside the house as they searched the gardens around it.
Local garda Odhran McBride was first on the scene. He said he was "delighted" to find her alive.
"I was just relieved and wanted to get her medical attention as soon as possible," said Gda McBride.
"I want to pay tribute to all the volunteers and all the local people who spent five days looking for Kelly in and around this area. They showed remarkable community spirit."
The same community spirit was praised by Brian Murray from the Donegal Mountain Rescue. He told us: "We are delighted that Kelly was found alive because to be honest it wasn't looking good.
"We wish her a speedy recovery and are delighted for her and her family over in the States."
And Patrick McBrearty from the Sliabh Liag Hill Walkers told
donegaldaily.com: "We are delighted that Kelly was found safe and well by gardai and members of our club. We hope she recovers and will be reunited with her family soon."
The garda investigation into her disappearance is well underway. Gardai believe she may have been in the rectory for up to three days but Kelly wasn't sure how long she had been there or why.
Kelly was born in Texas and her family live both there and in Georgia, though recently she was working as a catering manager in Charleston, South Carolina.
Donegaldaily.com received a large number of hits from all three States in the past three days since we broke first broke the news of Kelly's disappearance.
Tags: