A 70 year old former Letterkenny Institute of Technology lecturer has been accused of attacking a retired Garda after a meeting.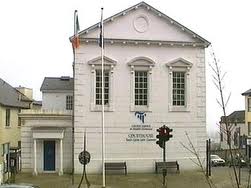 John Riney is accused of kicking and punching former Garda Thomas McNulty when he appeared of Milford before Milford District Court yesterday charged with assault on May 5th last year.
The court heard how the former Garda and a number of other men were leaving a meeting at the Integrated Rural Development (IRD) office when they heard a loud bang outside.
When they looked outside John Riney was calling out Mr McNulty's name while standing beside his car.
Mr McNulty asked another man Aidan Cannon to close the door but seconds later Mr Cannon found himself in a headlock by John Riney.
Mr McNulty tried to separate both men but Riney then attacked the retired Garda, striking him in the face and kicking him in the shins.
He then shouted at Mr McNulty, made derogatory remarks about his wife and continued to abuse him.
When Gardai arrived, it was claimed that Riney continued to abuse Gardai and even kicked Garda Brendan O'Connor.
Mr Riney, who denied all charges, represented himself and cross-examined Mr McNulty calling him a liar throughout the case.
Judge Paul Kelly told Mr Riney to stick to the fact but the former lecturer insisted all his questions were relevant to the case.
"You decided to go ahead with this trial and I warned you that I will be cross-examining all these Gardai and that is what I will be doing.
"Now please do not be interrupting me," he said to Judge Kelly.
Judge Kelly reminded Riney that he was the judge and did not have to take orders from anyone in the court.
Mr Riney made a number of allegations which led Judge Kelly to demand that he stick to the facts.
After a number of hours, Judge Kelly said he had no option but to adjourn the case an allocate a special sitting of the court on November 29th.
Ends
Tags: