A leading Donegal-based tax consultant has reminded people that they can still claim back for up to FOUR years if they feel they are owed taxes.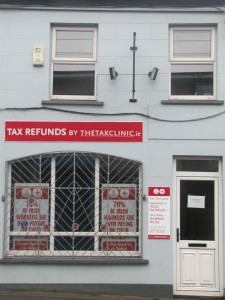 Michael Coll from www.thetaxclinic.ie has just opened an office on the Port Road in Letterkenny Co. Donegal and says he has been inundated with queries from people.
The Tax Clinic Specialises in claiming back Tax Refunds for P.A.Y.E workers and have a No Refund No Fee Policy.
Michael explains that after the toughest budget in history everybody has been hit with the introduction of the new universal social charge and the cutting of tax credits.
But he said that people out there must realise that there are millions and millions of euro that can be claimed back!
"The average refund we've been claiming for our clients is about €880 and the highest refund we have achieved to date has been €17,500 for a young couple from Killybegs," he revealed.
"Many people are confused about what they are entitled to, but come see myself or any of my colleagues at our new offices at 40 The Port Road Letterkenny."
To facilitate people's busy schedules our opening hours are 7pm to 9pm Monday to Friday by appointment only and 11am to 4pm every Saturday (No appointment necessary). Our website www.thetaxclinic.ie is full of useful easy to understand information on what is available to claim. For example if you held a full medical card for any period in either  2009 or 2010 you should not have paid the Income Levy and you are entitled to claim it all back.
Mr. Coll says it is important that taxpayers realise that you can claim tax back for up to four years so if you haven't claimed for a few years it's still not too late.
The Tax Clinic will be writing a few interesting articles about what is available to claim back over the next few weeks and these will be available to read on DonegalDaily.com.
Contact Michael – 086 3862370
Noel – 087 750708
Ends
Tags: