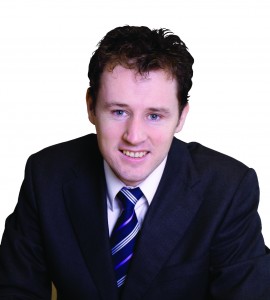 Donegal North East TD Charlie McConalogue has expressed concerns about Minister Rabbitte's SAORVIEW plans following the weekend announcement that analogue services will be switched off on 24th October 2012.
Anyone currently relying on an aerial to watch TV will be affected.  However, there still remains around 2% of the population who cannot currently get an analogue television service and it is unclear what will happen them.
The Minister has said that those who don't switch over before next year's deadline will be faced with a blank television screen – and some of them are in remote areas of Donegal!
Deputy McConalogue said: "There are 250,000 households who currently rely on aerials for their television reception.  However, RTE have confirmed that there is still 2% of the population which is not covered by either analogue or digital terrestrial services.
"I expect this figure to be proportionally higher in Donegal and I wouldn't be surprised if it was upwards of 10% for the county if the past experience of broadband and mobile phone services are anything to go by.
"It is unclear what will happen to these households when analogue services are switched off on 24th October 2012.  Having listened to both the Minister and Mr Gay Byrne who is leading the publicity campaign for digital switchover over the weekend, it remains unclear what will happen this 2% of the population.  When quizzed on it by members of the media, both fudged around the subject saying that solutions will work themselves out before next year's deadline.  This simply isn't good enough.
"I am aware of SAORSAT, which is the proposed solution proposed by RTE to provide services to the 2% of the population who will not be able to receive SAORVIEW, the digital terrestrial signal.  However, having made enquiries into this, I am unable to get an assurance that this service will be in place or any detail on how much it will cost the customer to have it installed.  The one thing RTE has guaranteed me is that they will not be subsidising those who cannot get SAORVIEW.
"I want Minister Rabbitte to assure those affected that they will indeed have a service whether it is through SAORSAT or some other means and that it will not cost them any more than the SAORVIEW service which is available to 98% of the population.  I find it unacceptable that the Minister would make an announcement on the date that Analogue services will be switched off without first making sure that everyone would have an alternative service available to them."
Tags: