It's doubtful that there will be anyone older at Biddy McGee's birthday party in Leo's Tavern on Saturday night than the birthday girl herself.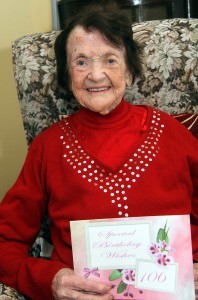 Well the well-known and hugely-popular Annagry woman is 106 afterall!
The great, great grandmother is hale and hearty despite her great age.
Friends and family will travel from as far away as America for the big night.
Biddy is still up to date with all current affairs and is in a bit of a quandary as to who to vote for in the Presidential election – her NINTH time to vote for an Irish President.
And Biddy's son Michael said his mum was very disappointed that his mum did not get to meet the Queen in Dublin.
Despite all the celebrations in Annagry, there is one major concern amongst locals in the West Donegal village.
Just who has 106 candles handy in a drawer?
Congratulations Biddy and many happy returns.
DONEGALDAILY.COM – DONEGAL'S BIGGEST AND BEST NEWS WEBSITE……GIVING YOU THE NEWS NOW!
ADVERTISE FOR JUST €3..click www.donegaldailyclassifieds.com
Ends
Tags: