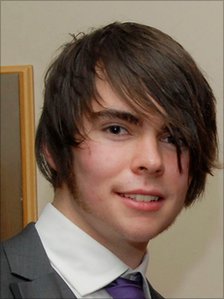 A priest has described the Donegal teenager who died at the weekend after an accident in Derry as "someone who evidently loved life and was himself greatly loved" and revealed his organs had been donated to help others.
Father Michael McCaughey told mourners at the funeral Mass for Caolan Page, 19, that he was the pride and joy of his mother.
Said Fr McCaughey: "For Caroline, Caolan was her pride and joy, the centre part of family life for Martin and Caroline and the entire family circle. Caolan was courteous and kind, even from primary school days caring for others.
"He was someone with determination to do well, wanting to do better, whose creative side was so reflected in his art. Evidently he loved people and had an affectionate and gentle approach. For many of his friends he was like a big brother, and was respected by his college friends and others."
Fr McCaughey spoke of how Caolan had some time ago signed up to become an organ donor, stating: "He has enriched the wellbeing of another person's life".
He added: "So many hopes and dreams were shattered in the early hours of last Saturday morning.
"His death has come so suddenly and the pain and heartbreak are so intense.
"There are many questions and people are lost for words.So many ask why can we not wake from this nightmare? All we can offer today, in a spirit of faith and love, is a sense of shared loss, a word of comfort, and the assurance of love. It is so important to weep and to grieve and we do so in the spirit of hope as we cherish so many memories."
Fr McCaughey asked mourners not to ponder on what Caolan could have achieved, but on what he had achieved in his 19 years.
There were heartbreaking scenes at the funeral of the A-level student who died after sustaining head injuries on a night out in the city last Saturday.
The young man, who lived in Co Donegal but who went to school at St Columb's College in Derry, was laid to rest after the funeral Mass in Thornhill.
Caolan's mother Caroline and stepfather Martin led the funeral procession from the family home in Killea to the Church of the Assumption in Thornhill.
The talented young artist's classmates from St Columb's College filed along the church entrance as his coffin, surrounded by white floral tributes with the messages 'Our Caolan' and 'Legend', was carried from the hearse.
Hundreds packed into pews and aisles for the service, while hundreds more gathered outside.
The choir from the all-boys grammar school sang hymns.
Tags: