Donegal's Apprentice star Joanne Sweeney Burke has balls……..eyeballs that is!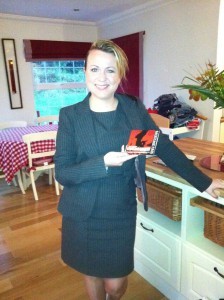 At least that's what she has been christened by last night's dumped wannabe Claire Crone.
The posh deportment dame accused our Joanne of having a problem with her eyeballs – in that she constantly raised them to the heavens with some of Claire's ideas.
Once again JSB managed to avoid Bill Cullen's axe despite being on the losing team.
Joanne accused caring Claire of having a major problem – she had a heart – a large one.
And there is no place for friendship in the boardroom according to Joanne.
The Downings woman managed to keep her head a little bit below the radar once again as many of the would-be Apprentices ran around like headless chickens.
Joanne has admitted that food is not her forte (ask her husband!!) and not surprisingly she decided to stick to the marketing side of last night's task instead of cooking.
There is still plenty of deadwood to be shipped off to the great FAS office on the Long Mile Road before it gets serious in the boardroom.
Let's fact it if Chris doesn't get the boot soon, we'll have to call around to the Apprentice gaff and turn on the gas.
Another week, another solid performance and she has yet to be called into the boardroom for the vote-off.
Joanna Sweeney Burke is doing Donegal proud and she could be there a lot longer.
Ends
Tags: