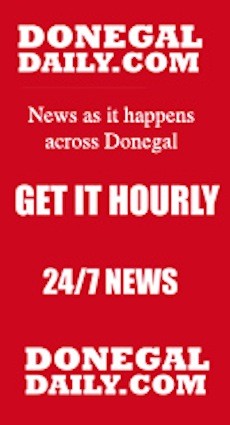 IT'S OFFICIAL – donegaldaily.com is Donegal's biggest news source…by a Donegal mile! Or a hundred of them!
That's because latest independent statistics show that this month alone donegaldaily.com has had an incredible 10,507,206 hits – and we still have a few days of the month to go.
And separate analysis shows we have more than 101,000 unique users in Donegal and from Donegal people right around the world, generating an astonishing 1.2 MILLION page impressions.
On the day the Mayor of the county announced plans to bring Donegal people home for a 'Gathering' to boost tourism, we can tell him where they are.
They are in 141 countries around the world, though mostly in America, Australia and Europe.
Many of them spend more time on this site than they do reading a traditional newspaper.
Editor Stephen Maguire said: "From the launch 11 months ago, we have seen a steady growth in the number of people logging on to donegaldaily.com.
"This has grown substantially in the past few weeks and this is being recognised by advertisers who are seeing their businesses grow as a direct result of advertising on donegaldaily.com.
"We are delighted with the latest figures from an independent source which monitors our extremely busy server and the results are incredible.
"We want to thank everyone both here at home in County Donegal where the vast majority of our traffic comes from and all those overseas for their fantastic support."
Follow us on www.twitter.com/donegaldaily
Follow us on www.facebook.com/donegaldaily
Sell anything on www.donegaldailyclassifieds.com for just €3.
Display and Deal advertising phone 074 97 06576 or Mobile 086 0691684.
Send your stories, pictures, and anything else to info@donegaldaily.com.
* Charity notices are FREE on www.donegaldaily.com
Tags: