Dynamic Waves are regarded as one of Donegal's most talented dance and entertainment groups.
They have performed across the county and indeed the country at shows, parades and festivals.
But this weekend sees them tackle perhaps their biggest project to date.
Spooks 2 at An Grianan Theatre promises to both entertain and engage audiences of all ages long into the dark Halloween nights and beyond!
The show will be performed by a cast of 45 talented young people aged between 6 and 17 years from across Donegal including Newmills, Glenswilly, Letterkenny, Milford, Kerrykeel and Manorcunningham
Under the directorship of Kelda Guzman, the show promises to a spectacle not to be missed – if you're brave enough!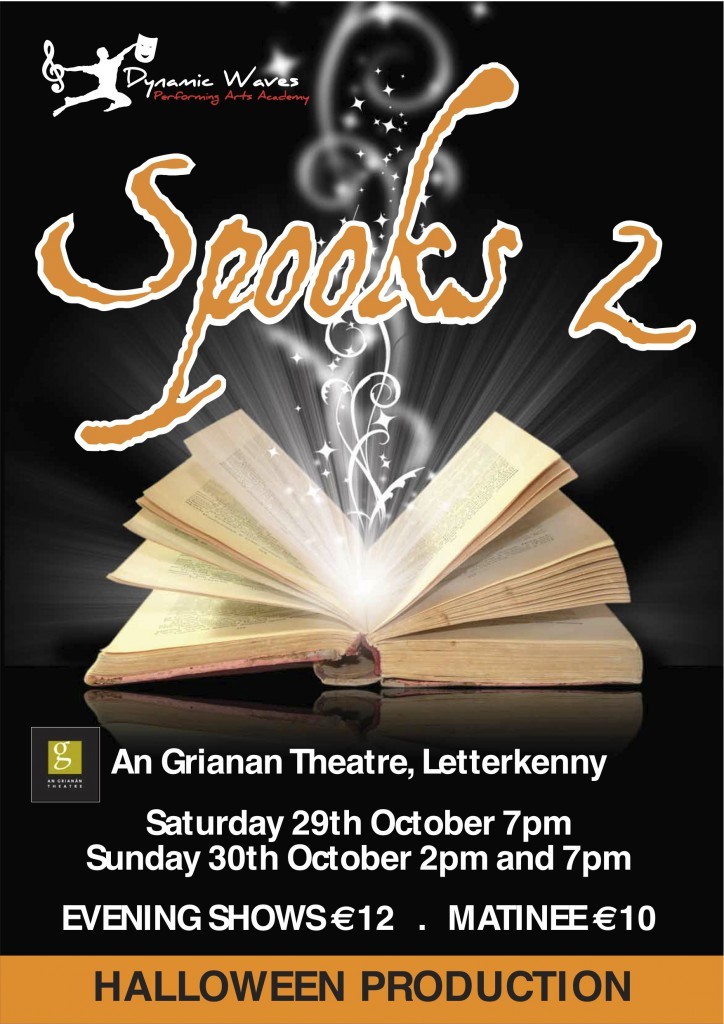 SPOOKS 2 – The summary
Ever thought what happens at the end of a fairytale? Where do the bad characters go? How come in fairytale land everyone always lives happily ever after? Well…its simple…all the bad characters are removed and banished to the land of darkness by king Jasper head of fairytales, where all spooks, bad characters and nightmares live under a curse so not to ruin the land of good.
Last October Princess Arianna the trapped princess who had accidently ended up in the land of darkness when the curse was set. she was lonely and frightened until 4 young children heard that of the curse of the book. If they were to read on Halloween night then they too would become part of the story. At midnight the curse is once again locked for a year so they had little time to lock it back up with the witches heart.
Arianna was sent back to her tale by the children. But, once again nothing is ever simple in the land of darkness. When the children read the story they made the pass between light and good weak and the bad characters have slowly been entering the fairytale pass to begin to destroy the happy endings. The goblins plan on Halloween night to break through the door ruining fairytales forever, bringing with them Gumble the fairytale baby they once snatched to bribe king jasper all those years ago. Will gumble find out who she really is? Will the children read the story once again? Will fairytales with happy endings no longer exist? Who knows…sit back and see!
Ends