A bus driver who decided to go for a short stroll after leaving off a group of walkers had to be rescued by helicopter after getting lost.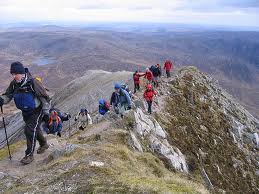 The man, who was in his 50's had left off a group of walkers from Co Kildare at Slieve League yesterday morning.
The man became lost around 4pm and had to call the emergency services near Bunglass.
Luckily the Search and Rescue 118 Helicopter based at Sligo was in the area on a training mission and found the missing man about two hours after he went missing.
He was winched to safety and did not have to go to hospital after being checked by the emergency service crew.
Brian Murray of the Donegal Mountain Rescue, who also took part in the recovery operation, said the man, who was from Dublin, had the sense to be able to pinpoint his rough location.
"He didn't have the proper clothing on and this just shows how easy it is to become lost while walking.
"Thankfully he was able to say that the sea was to his left and the 118 helicopter was able to locate him using their heat-seeking camera," he said.
Mr Murray said recent exposure of the Slieve League cliffs had seen an influx in walkers from around the world.
"Slieve League has become very popular for walkers due to its new international tourist profile. Combined with some of the most variable weather in the country coming off the Atlantic it is clear that lost walker call outs are becoming increasingly common.
"Each of these call outs are urgent since risk of serious injury or death is high in this dangerous terrain," he warned.
Ends
Tags: