Letterkenny lad Ryan McCrabbe saw his wish come true when he became the first person in Donegal to get his hands on the new Apple iPhone 4S.
iPhone-mad Ryan was granted this very special wish by the Make-A-Wish Foundation which grants wishes to children living with a life threatening illness.
When Make-A- Wish contacted Francis Callaghan, the MD of Digifone O2, he did not hesitate in helping to make Ryan's wish come true.
Ryan and his friends were picked up and taken by Limo to the O2 store on Friday morning where Francis presented Ryan with a brand new iPhone.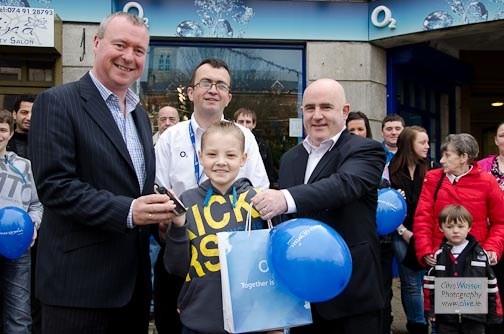 Pictured are: Ryan McCrabbe with Rob Cameron, O2 Store Manager in Letterkenny; Francis Callaghan, Franchise Principal for Donegal; and James Given, O2 Area Manager. Photo Clive Wasson.
Tags: