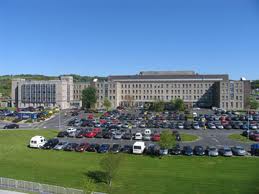 JUST THREE nurses are being left to look after 11 ill cancer patients, a report said today.
Gaoth Dobhair woman Josephine Ni Chnaimhsi, 40, said she was horrified to discover that just three nurses had to care for 11 very ill patients at Letterkenny General Hospital.
Three of them in the high dependency unit, she told the Irish Independent.
This morning she told donegaldaily.com that she went public with her diary to show how HSE cuts are affecting ordinary people and the nurses who care for them.
"I cannot begin to describe how superb the nurses are in that unit," said the mother of one today.
"But it is a disgrace how so few nurses are expected to care for so many seriously ill people including my mother.
"There is no cover when other nurses are off. It is banned by the HSE and this must be addressed because those nurses can only juggle so much."
On one day, Mrs Ni Chnaimhsi recorded: "There are 11 patients here today. They are in six different rooms. Three patients are getting chemotherapy, three are in high dependency care and five patients are either pre-chemo or post-chemo.
"My mother has been sick more than 20 times today. She is too ill to reach the bell so if I wasn't here there would be times when the nurses just couldn't physically be here and would not know she was being sick.
"I keep checking another patient regularly in another room and try to help where I can. This is ridiculous. The nurses are incredible but they are under severe pressure. There has to be two of them when they are administering drugs, and this is impossible."
Today Josephine Ni Chnaimhsi repeated her call on health minister Dr James Reilly to visit the ward to see how her mother and other patients are being treated by just three nurses.
"He's a doctor and any doctor will tell you that what is happening at this unit is just not viable. The management at Letterkenny General need to spend a day there and ask themselves if this can continue," she added.
No-one from the HSE was available for comment yesterday but one hospital insider admitted that the nurse/patient ratio in a number of departments was "causing serious concern."
The source added: "Nurses are being left to get on with it. Maternity cover, sick cover and overtime are all banned.
"To have just three nurses on a shift looking after 11 very ill patients is diabolical. No-one can defend that."
HSE West is currently tackling a €50M overspend with €7.5M of that overspend at Letterkenny General Hospital.
Follow us on www.twitter.com/donegaldaily
Follow us on www.facebook.com/donegaldaily
Sell anything on www.donegaldailyclassifieds.com