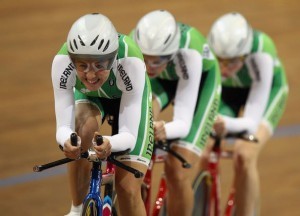 OLYMPIAN Sinead Jennings today thanked the people of County Donegal for getting behind her in her bid for glory in London next year.
Next Friday 11th Nov a 24 hour Spinathon/Cyclathon will take place in Energie Fitness Club Letterkenny, in Aid of the Sinead Jennings Olympic Fund.
Lots of sporting enthusiasts of Letterkenny and indeed some not so enthusiastic!!! have signed up to spin for Sinead at an allocated time over this 24 hour period.
One of the organisers Alma Kavanagh said: "Sinead is a personal friend of mine and I as well as all the other people of Letterkenny hope to see her realising her dream of Olympic Qualification.
"Sinead deserves a Letterkenny Response and support for this fundraising venture. Never in my life have I met a lady and friend, who is so dedicated and committed to representing her country.
"Sinead has made huge personal sacrifices to get to where she is today and she hopes to qualify for London 2012 taking part in speed cycling in the Veledrome.
"So committed is she, that she's postponed ( Only Temporarily!!!) her planned wedding in December of 2011 until after the Olympics. Anyone who knows Sinead, knows that your dealing with one focused and determined Athlete.
"I am asking for everyone in the county to get down to Energie Fitness Club within the next week, pick up a sponsorship card and pledge a half hour on one of the 10 bikes that will be available on the day
"If we fill all the slots and the 20 euro minimum contribution per half hour on bike, we will raise the 10,000 euro needed to get our Letterkenny Athlete  Heroine the best training there is for London 2012."
Donegaldaily.com will be getting right behind the initiative.
And Jason Black of Voodoo will provide entertainment afterwards in Vodoo and Ink Lounges where the grand total of money raised will be announced.
Said Sinead: "I am overwhelmed by this effort in my home town and home county. It really is very special. It means so much more when the people who are supporting you are friends and family in your home."
Call Energie Fitness Club to book your slot on 074 9177949.
Time slots urgently needing cyclists are 8pm- 12 midnight on 11th Nov and 6am – 11am Saturday 12th and 1pm – 5pm Saturday 12th.
Tags: