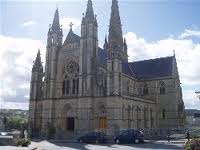 IT'S D-DAY in the biggest GAA boundary dispute in Co Donegal – as the County Committee meets tonight to decide whether or not to split Letterkenny.
At the September meeting, Letterkenny Gaels reiterated their call to have the parish of Aughaninshin part of the town declared as their club's catchment area.
That would have left St Eunan's with Conwal and Leck part of the town only.
However St Eunan's GAA club say this is a breach of an agreement reached when the Gaels club was founded.
The matter is to be voted on tonight after delegates in September said they wanted to discuss it at their clubs before voting on it.
The result could have wider implications for other boundary disputes in the county.
An independent report by former GAA chair Peter Quinn opposed a parish split in Letterkenny.
Here's our previous report on that:
https://www.donegaldaily.com/2011/10/09/gaa-boundary-dispute-revealed-former-gaa-president-opposed-splitting-letterkenny/
© 2011 donegaldaily.com, all Rights Reserved
Follow us on www.twitter.com/donegaldaily
Follow us on www.facebook.com/donegaldaily
Sell anything on www.donegaldailyclassifieds.com
Tags: