The ESB has threatened to cut off the power supply to the sewage system of a well-known Letterkenny housing estate because it is owed a substantial amount of cash.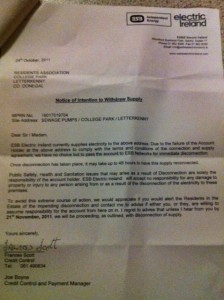 Residents of College Park in Glencar are at their wits end after they received the notice in recent days.
A letter from the ESB  (right) says that unless the outstanding bill is paid by November 21st, then the power supply will be cut off.
The developer of the estate has gone into liquidation.
Donegaldaily.com understands that local residents believed it was up to the receiver to look after such matters.
However the ESB has landed residents with the bombshell and told them that unless they pay up, their connection will be cut.
A warning letter from ESB – Electric Ireland – seen by Doneagldaily.com warns that it could take up to 48 hours to reconnect if the supply is cut.
It also warns that "public safety, health and sanitation issues that may arise as a result of disconnection are solely the responsibility of the account holder."
One resident told us "We're literally in the s*** if our sewage power supply is cut.
"This is another charge that is nothing to do with us but the ESB has now put this threat over us. It's just not on."
The residents of College Park as well as surrounding estates including Glenoughty, Willowbrook and The Elms have now arranged a pubic meeting for tomorrow night to discuss the crisis.
All Letterkenny Town Councillors have been invited to the meeting which takes place at the Ard Ri Bar in Killylastin at 8pm.
© 2011 donegaldaily.com, all Rights Reserved
Follow us on www.twitter.com/donegaldaily
Follow us on www.facebook.com/donegaldaily
Sell anything on www.donegaldailyclassifieds.com
Tags: