Donegal manager Jim McGuinness has said he wants to sit down with all clubs in the county and map a way forward for the coming season.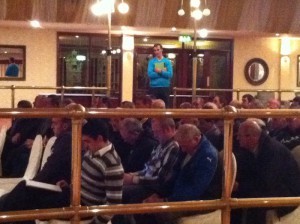 The Glenties man was left hugely frustrated last season when the Competitions Control Committee refused a request to cancel club games which featured many county stars.
In one such game, Naomh Conaill player Leo McLoone received a serious injury and was ruled out of a number of vital inter-county games.
The appeal by the Donegal football boss was the main point in his address to county delegates at last night's county board meeting in Jackson's Hotel, Ballybofey.
He said he understood how some clubs were not completely behind the county team but he said the only way around this was by siting down and finding a solution.
"I would really like to see the views of managers and administrators and we will show you where we are at and together we can make a conscious decision that we can get behind club and county football.
"I know for a fact there was people begrudging the county team because they were taking players from their club. I don't blame them for that. Their team is their number one team but I want to bring everyone with us, he said.
In a long-ranging address, the former Donegal midfielder said he plans to bring a total of 39 players into his squad for the coming season.
"If clubs feel they have a player or players who they think we should have a look at then they should contact us and we will consider it," he said.
He also added that following the incident last year in which the county team stayed in the Slieve Russell Hotel, he said he would like to repeat the stay this year.
He said players were prepared to fundraise for such stays and he thanked Tony McFadden who had funded this year's stay at the Cavan Hotel.
He also thanked the supporters who followed Donegal to the All Ireland semi-final at Croke Park.
"We started off with 7,000 at MacCumhaill Park and it got to the stage where we had 30,000 supporters at Croke Park against Dublin. That filled the players with so much pride.
"I would like to thank al those supporters who came out for us on all those occasions," he said.
© 2011 donegaldaily.com, all Rights Reserved
Follow us on www.twitter.com/donegaldaily
Follow us on www.facebook.com/donegaldaily
Sell anything on www.donegaldailyclassifieds.com
Tags: