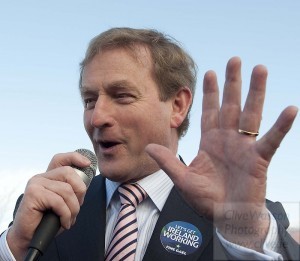 BREAKING NEWS: The Government has withdrawn funding for a major road upgrade in the North, designed to link Donegal with Dublin
It was to have provided €500m towards the cost of the A5 Derry to Aughnacloy road upgrade.
It would create a key cross-border business route linking Dublin to the north west.
In September, the Department of Transport told the BBC it has already spent €21m on the project.
BBC Northern Ireland has just reported that the Stormont executive has confirmed that the Dublin administration has 'postponed' further payments.
This is a direct contravention of election pledges.
Taoiseach Enda Kenny told northern ministers that he was putting a halt on the cash because of cutbacks.
However the BBC said the decision was a 'postponement' rather than an axed on funding.
Deputy Charlie McConalogue fumed: "Once again Donegal has been shafted despite all the promises that were made."
He went on: "If these reports are true, this is a major blow for Donegal and the North West and would amount to a complete abandonment of firm election commitments from both Fine Gael and the Labour Party.
"The previous Government was fully committed to this project and had set aside funding in the four-year National Recovery Plan to have it completed by 2015.  Fine Gael and Labour promised voters in the North West that they would deliver the A5 project if elected to Government.  The Taoiseach Enda Kenny repeated this commitment as recently May during a speech at the Institute of British-Irish studies in UCD.   He quite clearly stated: "The previous government had committed to put money in there and we will honour that commitment." (Taoiseach Enda Kenny, Institute for British-Irish Studies in UCD, 26th May 2011)
"Now it seems the A5 Derry to Aughnacloy road is joining a long list of broken promises from Fine Gael and Labour within their first few months of Government.  People in the North West took their promises in good faith, and they will rightly feel let down and angry at this news today.  This is the single most important infrastructure project for the North West region.  To bring it to a screeching halt would be an extremely ill-advised and short-sighted move.
"The previous Government understood the enormous economic and social benefits of this project to the Donegal and the North West region. It should be built and operational  as promised by 2015, ensuring that our region has the same quality of roads network that other parts of the county have achieved in recent years.  I am urging the Government to think twice about making such a damaging decision that will hamper economic recovery in the North West."
Tags: