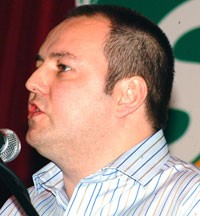 SINN FEIN today hit back at media reports over a trip to Ethiopia by Donegal North East TD Padraig MacLochlainn.
Media reports today said the Donegal deputy was staying in the 5-star Hilton Hotel in the African nation's capital Addis Ababa.
But Deputy MacLochlainn and four other TDs were told to stay at the hotel by the head of the Ethiopian security forces because of ongoing conflict in the country.
Today sources close to MacLochlainn told donegaldaily.com: "This is nothing more than muck-raking by people who should know better.
"It is outrageous that some people have jumped to conclusions over this trip which is aimed at providing resources to Irish charities who are dealing with life and death situations on the ground every day.
"The stay at the Hilton was arranged by the Ethiopian government for security reasons and all foreign diplomats and foreign visitors are put there for that reason alone."
Fine Gael's Pat Breen and Dan Neville, Fianna Fail's Sean O Fearghail and Labour's Lorraine Higgins are also on the six-day visit by members of the Dail Foreign Affairs Committee.
A series of meetings are planned with Irish charities and representatives of the United Nations.
"This is not a junket," said one of Deputy MacLochlainn's aides today.
"It is outrageous that a night at the Hilton is taking away from this very serious issue."
© 2011 donegaldaily.com, all Rights Reserved
The copying, republication or redistribution of donegaldaily.com Content, including by framing or similar means, is expressly prohibited by law.
Follow us on www.twitter.com/donegaldaily
Follow us on www.facebook.com/donegaldaily
http://www.asa.org.uk/ASA-action/Adjudications/2009/6/River-Newspapers-NI-Ltd/TF_ADJ_46380.aspx
Tags: