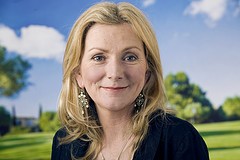 THE Fine Gael/Labour coalition has been accused of cronyism…just like the last government after a former Donegal election candidate was appointed to a quango.
Siobhan McLaughlin, a Labour candidate here in the past, has been appointed to the board of Pobal.
She is one of more than 20 people with close links to either Labour or Fine Gael to get such appointments this year.
The mother of two contested Donegal North East for the Labour Party in 2007.
She received just 703 votes – or 1.8% of the vote.
The government parties have given dozens of jobs to friends and party colleagues – with wages and remuneration running into millions of euro.
Last night a source in the Labour Party in Donegal said the appointment would prove 'extremely embarrassing'.
© 2011 donegaldaily.com, all Rights Reserved
The copying, republication or redistribution of donegaldaily.com Content, including by framing or similar means, is expressly prohibited by law.
Follow us on www.twitter.com/donegaldaily
Follow us on www.facebook.com/donegaldaily
Sell anything on www.donegaldailyclassifieds.com
Tags: