It's Monday again at Media Box HQ and we all know what Monday means – it's Apprentice time!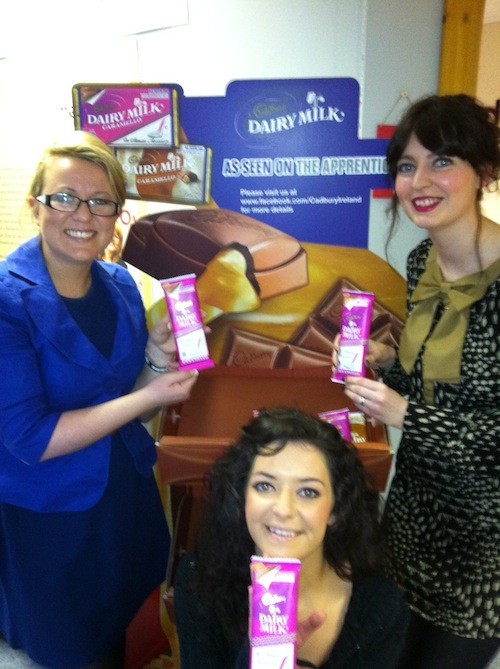 With the kettle boiled and anticipation high we look forward to JSB's reappearance on our TV3 screens tonight at the later time of 10.00pm.
Surviving six rounds of Bill Cullen's boardroom, JSB is set to take on week 7 with some gusto! This week's task is sponsored by e-mobile and she assures us it's going to be a good one.
Last week's Caramello task saw both team Zest and team Spirit go head to head to design a new and improved wrapper for an old Dairy Milk favourite.
With a few sticky moments along the way, team Spirit took the title as last week's winners smashing boardroom figures with an impressive €53,000 worth of Caramello bars sold in one day.
Although team Zest waved off sub-PM Peter Nielsen, morale was not dampened as their design joined team Spirit's on shop shelves throughout the nation this week. The hot pink wrapper deemed the ultimate accessory appears to be going down a treat in Donegal as it has been flying off the shelves, more so than team Spirit's winning design.
With emotions flying high – quite literally, tonight's Irish Apprentice is one not to be missed. Tune in to TV3 at the later time of 10.00pm to see JSB running in those heels and hopefully not to be the one running from Bill's boardroom!
With the events calendar filling up, our clients have also been busy this week.
Letterkenny based waste management and disposal company, Ferry's Refuse, have launched an innovative new campaign "The Waste Lottery – Bin it to win it" which will see 52 households getting their waste collected absolutely FREE for a year. The competition is open to existing and new customers of Ferry's Refuse and to enter you must simply tell us why you use Ferry's Refuse. All applications must be submitted by 12 noon each Monday for the duration of the competition via: Facebook: www.facebook.com/pages/Ferrys-Refuse; email: info@ferrysrefuse.com or post: Ferry's Refuse, Rossbracken, Letterkenny, Co. Donegal
Congratulations to Anthony Doherty Clarke from Gransha, Buncrana, Co Donegal, who was announced as the lucky winner of a €300 agricultural scholarship courtesy of Smyths Daleside Feeds this week. Invested in the importance of next generation farming, Smyths launched this scholarship scheme in September this year to offer young farmers the opportunity to progress to further education and develop a Third Level qualification in Agricultural Studies. As a second year Agriculture Science student in UCD, Anthony was delighted to receive the scholarship.
And to finish off this week's update on the Media Box office antics we are delighted to announce that we will be celebrating our 3rd Birthday on Tuesday 29th of November. With competitions, giveaways, music and nibbles it will be a great day to mark a successful 3 years and many more to come. Join us at Unit A8, Enterprise Fund Business Centre, Ballyraine from 12pm on Tuesday 29th of November, we look forward to seeing you!
Wishing the very best of luck to JSB tonight
Until next week keep running in those heels!
The Media Box Team X
Tags: