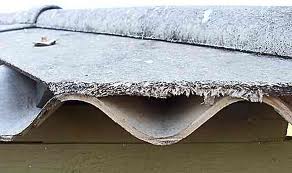 ASBESTOS has been found at Pobal Scoil Cloich Cheann Fhaola – the PCC in Falcarragh, donegaldaily.com can reveal.
The material – which can cause chronic illnesses – was widely used in the past, especially for roofing.
Its use in Ireland ceased in the 1980s after a number of people died from inhaling dust particles from the substance.
The situation at the secondary school was so bad that emergency funding has been released to have it removed safely from the school's gym and store room.
Donegal South West Senator Brian Ó Domhnaill – who lives locally confirmed to donegaldaily.com that the Department of Education & Skills has approved an application for Emergency funding, for the removal of the asbestos.
Senator Ó Domhnaill said: "Following representations which I have been making with the Department I am pleased to have received confirmation that funding to facilitate the immediate removal of asbestos tiles in the school's Gym Hall and Store has been approved."
It's not thought there was any immediate danger to the children however.
© 2011 donegaldaily.com, all Rights Reserved
The copying, republication or redistribution of donegaldaily.com Content, including by framing or similar means, is expressly prohibited by law.
Follow us on www.twitter.com/donegaldaily
Follow us on www.facebook.com/donegaldaily