The Special Criminal Court has today ruled that statements made by a man admitting his part in the murder of a man in Co Donegal more than three years ago can be admitted in evidence.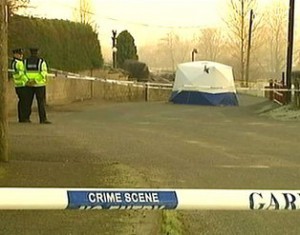 Defence counsel for Martin Kelly had challenged three statements made by him to gardaí in which he admitted driving Mr Andrew Burns from Strabane, Co Tyrone across the border to Donnyloop where he was shot dead.
However, today, the three-judge court ruled that the statements, two made while in garda custody and the third to two senior gardaí in the North, were admissible in evidence.
Kelly is on trial for the murder of Mr Burns whose body was found by a group of teenagers in the car park of a church at Donnyloop in Co Donegal in 2008.
It is the prosecution case that Kelly was part of a joint enterprise to lure Mr Burns from Strabane to Donnyloop where he was shot twice.
The shooting was heard by a group of five young people from Clady, Co Tyrone who were walking in the area.
Martin Kelly (aged 36) a bus driver, residing at Barrack St, Strabane, Co Tyrone has pleaded not guilty to the murder of Mr Andrew Burns (aged 27), an unemployed man, at Donnyloop, Castlefin, Co Donegal on February 12, 2008.
Kelly's trial began last month but after two days of evidence the court started a "trial within a trial" to decide on the admissibility of statements made by Kelly while in garda custody in Letterkenny and a statement made by Kelly to two senior gardaí at a hotel in the North.
The "trial within a trial" lasted 12 days and the evidence heard was treated by the court as part of the evidence of the trial proper.
Tags: