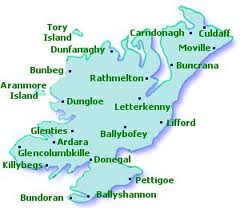 ST.EUNAN'S APPEAL: St Eunan's GAA club's appeal against the controversial 'parish boundary' rule will be heard next Thursday night. No venue has yet been decided.
MASS: A special Mass will be held at Murlog Parish Church in Lifford next Tuesday at 10am to remember missing local man David Colhoun who is feared drowned in the River Mourne.
PENSION: Former County Manager Michael McLoone has said he had no choice but to take a €220,000 lump sum as part of his pension package. Mr McLoone said he had put in a lot more than he will ever get out from his pension.
DOING THE BUSINESS!: Leading Donegal estate Dermot Rainey has said the opening of three new businesses on Letterkenny's Main Street is a very positive development.
BARKING MAD! Dog wardens are increasing their patrols after a dramatic increase in the number of stray dogs across the county. To date 737 dogs have passed through the kennels in Letterkenny compared to 684 for the entire of last year.
NO IDEA: Publicans from Donegal were among protestors who went to Dublin – calling for support for the trade. They want tax relief for rural bars so that publicans can buy vehicles to run drinkers home.
VAT INCREASE: Donegal businesses are in for a shock – VAT is going up to 23%…according to German MPs who claim to have seen next month's Budget before we have!
YOU COULDN'T MAKE IT UP: The boss of the bank trying to put a Letterkenny out of their home has been allowed to have a pile of cash. EBS Chief Executive Fergus Murphy gets €380k a year – €20k above government guidelines.