Despite rumors to the contrary, Donegal's own Apprentice Joanne Sweeney-Burke has again survived the chop on the TV3 show.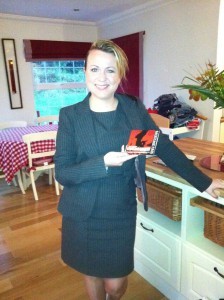 The Letterkenny businesswoman is down to the last seven in the competition and getting closer to that €200,000 prize.
Joanne was on the winning team once again despite a relatively low-profile appearance.
The task for teams Spirit and Zest was to launch an event in a pub on behalf of Guinness.
Guinness hoped the unique event will eventually book part of their branding and promotion strategy.
Joanne and her team went of the theme of local legends in the community.
But starting off it looked life Joanne and her team were only short of one thing – legends!
They eventually managed to get some legends and the night in a Co Cork pub proved a huge success.
Joanne even compered the night and not even her Dunfanaghy accent got in the way.
She might just be saving herself for a last drive as the weeks pass by and the candidates drop away.
Will it be the Bill and Joanne Show come December?
Only time will tell…..because Joanne won't tell us!
Though we do know she has a break-down in next week's show….the trailer showing her crying.
Tags: