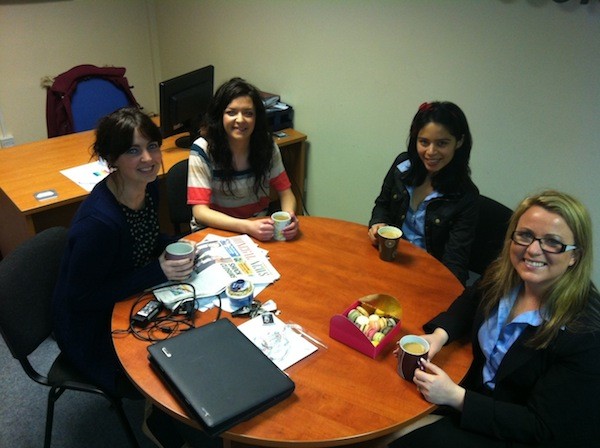 Monday Mash Up: In search of a Michelin Star, The Apprentice & A Great CSR Campaign
Monday 21st November
Monday morning and time for our round-up of the week  ahead at Media Box. There is a clean fresh smell in the air which means JSB was busy over the weekend with her duster and polish!  Does she ever take a break?
Oh we can hardly believe it's week eight in The Apprentice but we are so chuffed JSB is still in it and hopefully to win it!  This week we believe it's a Guinness-sponsored task and we also believe that JSB is sent to Douglas in Cork to the South County Bar.  So hopefully we will be toasting Arthur with a big 'cheers' if she is on the winning team. It's been a bit rough for her over the past two weeks so we think she deserves a win to make it five out of eight!
Tonight the Media Box team will be in Arena 7 to watch The Apprentice so join us from 9:00pm as we get into the Aprentice-spirit.  We were delighted to hear that Enda Nicholls won Letterkenny Chamber's Business Person of the Year Award at the weekend bash. And a big congratulations to Michael Gallagher who scooped the Hall of Fame Award.  It's so important to honour local business leaders.
We have a hectic week ahead at Media Box.  With our own Birthday coming up in just over a week's time – Tuesday 29th November – we are busy finalising plans in an attempt to wow you all! So please do pop in between 9.30am and 5.30pm for a cuppa and some Cadbury Caramello (the pink one of course)!
On Thursday afternoon JSB will launch Errigal College's Build-a-Bank competition.  Errigal College has a fantastic enterprise ethos and we wish them much success in this year's competition which is sponsored by AIB.
This Thursday night sees the official launch of Browns Bistro at The Magnet Bar & Restaurant on the Culmore Road in Derry. Derry-born chef, Ian Orr, who is hoping to win back Northern's Ireland's Michelin Star, will launch his new venture "Browns Bistro" at a glitzy night of great food and mulled wine.  Organised by Media Box it's promising to be a great night.  So if you are in the area do come along at 8.00pm.
On Saturday night we end a great Corporate Social Responsibility (CSR) campaign that we devised for Kavanagh's SuperValu Donegal.  "Help Us to Help Others" was launched in May this year and the aim was to raise €30,000 for the Donegal Hospice.  Kavanagh's SuperValu Managing Director, Noel Kavanagh, will be in Donegal this weekend to present the undisclosed cheque to new Hospice Chairman, Dr. James McDaid.
Media Box would like to congratulate all the staff at the four Kavanagh's SuperValu stores in Donegal for their hard work and commitment to this cause.  And we look forward to the presentation night in the Villa Rose Hotel in Ballybofey this Saturday.
OK, time for a cuppa and our Monday morning team meeting.  We are delighted to have our Digital Media Executive Djameela join us this morning in real life! We usually have her on Skype from Cork but she's in Letterkenny today for a visit!
Until next week, keep running in heels!
The Media Box Team. x
Tags: