The Ardara Matchmaking Festival is to feature on Sky TV this week.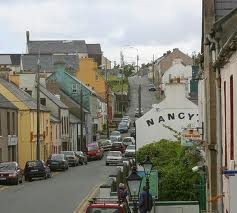 Love, lyrics, and lots of interesting characters from the annual festival will feature on 'Out and About in Ireland' on Sky TV channel 201 this Thursday evening, November 24th, at 9.00pm.
A film crew from IRISH TV travelled to the picturesque Donegal village recently to capture all the rírá agus romance involved with this entertaining festival.
Event organiser Stephen McCahill said he was delighted that the film crew chose the Ardara Matchmaking Festival as their base location. "There is something unique and magical about matchmaking and it is a great Irish tradition. It's a great weekend for those who are both serious and light-hearted about finding romance.
"We are very proud that this broadcast on Sky TV channel 201 and on www.irishtv.iewill showcase the village and Co. Donegal to a massive audience at home and abroad."
The Sky TV programme this Thursday on Sky channel 201 captures the essence of community spirit and the camaraderie associated with festivals in rural Ireland, which are traits easily found in Ardara as the village aims to host a festival every month each year.
"The Ardara Matchmaking Festival attracts visitors from all over the country. Our show this Thursday will give viewers a fantastic insight into the unique tradition of matchmaking in Ireland.
"The show will include advice from both the Matchmaker's Daughters and the Donegal Divas as well as wonderful musical entertainment from 'country music's sweetheart' Lisa McHugh." commented Irish TV executive producer Mairéad Ní Mhaoilchiaráin.
The programme this Thursday will also feature a delicious piece on tasty treats and cakes in Ardara's famous Gallagher's Bakery as well as much more.
The entire show can be viewed on Sky TV channel 201 or on Freesat 403 this coming Thursday, November 24th at 9.00pm or alternatively you can watch the show online at www.irishtv.ie
Tags: