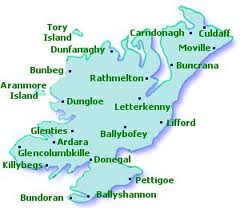 EMOTIONAL TRIP: Falcarragh woman Marie McFadden has just returned from a life-changing trip. Marie sponsors a child in Swaziland through the World Vision programme. "It was so encouraging to see how Irish sponsors contribute to health care and education in such a poor part of the world," she said.
POOL CAMPAIGN: Donegaldaily.com is getting behind the campaign to save Buncrana swimming pool. The facility needs more funding to stay open and it is a fantastic resource for people in the town. Visit their facebook page to pledge your support.
AWARD: Brave Ballyshannon man Pat Ward, 72, and his grandson Dean, 24, have been given a top gong after saving the life of an angler at Creevy Pier last October. The pair won the Seiko Just In Time Rescue Award.
GARDA PROTEST: Sinn Fein's Padraig MacLochlainn is supporting a protest in Dublin today against proposed closure of garda stations.
SHOW: Naomh Brid GAA Club are hosting a fashion show in the Central Hotel in Donegal Town this Saturday. Doors open at 7pm.
BUTCHER'S BEST: Liam and Edmund Walsh have picked up a top award for their beef. The Donegal Town butchers were crowned Northern Spiced Beef Champions by the Association of Craft Butchers.
STAGE PRESENCE: Students at Colaiste Cholmcille take to the stage tonight for their production of the hit musical 'Hairspray'. More than 150 students at the Ballyshannon school are taking part. The show runs each night at 7pm until Saturday.
FAIR PAY: The Carrick Country Market returns this Saturday from 11am to 1pm at the Old School in the village. Packed with lots of locally-produced products, it's not to be missed.
© 2011 donegaldaily.com, all Rights Reserved
The copying, republication or redistribution of donegaldaily.com Content, including by framing or similar means, is expressly prohibited by law.
Follow us on www.twitter.com/donegaldaily
Follow us on www.facebook.com/donegaldaily
Sell anything on www.donegaldailyclassifieds.com
Tags: