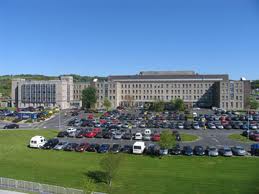 A NUMBER of outpatient clinics including ENT have been cancelled today at Letterkenny General Hospital.
And there is an appeal for non-urgent patients to stay away from the Emergency Department as the under-staffed hospital struggles to cope with a large influx of patients.
It's just the latest in a long list of public appeals from the HSE for patients to stay away.
The HSE is advising patients to check with the hospital before travelling today by calling 074 9123555.
Dr Patel's ENT clinic and Dr Steele and Dr Mohammed's Medical Clinics are affected.
Meanwhile the union IMPACT wants a decision taken on the reception services for NowDOC.
This comes after our warning TWO WEEKS ago that the HSE wants to close receptions around the county and move them to a central location in Ballybofey.
© 2011 donegaldaily.com, all Rights Reserved
The copying, republication or redistribution of donegaldaily.com Content, including by framing or similar means, is expressly prohibited by law.
Follow us on www.twitter.com/donegaldaily
Follow us on www.facebook.com/donegaldaily
Sell anything on www.donegaldailyclassifieds.com
http://www.asa.org.uk/ASA-action/Adjudications/2009/6/River-Newspapers-NI-Ltd/TF_ADJ_46380.aspx